My daughters tell me not
To wear my boots I love them
Knee-highed wide calved
So comfortable my feet
Disappear at 50 such absence
Merits attention. I love them, too
My girls the way they occupy
Their bodies the high laugh
When they are together
Beautiful in their certainty
That the boots are wrong
For me
© by Janice Schuster.
Used with the author's permission.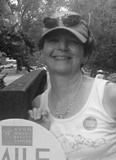 Janice Lynch Schuster lives near Annapolis, Maryland, where she works as a writer for Altarum Institute. Author of one chapbook, Saturday at the Gym (Three Acre Wood, 2011), and one non-fiction work, Handbook for Mortals: Guidance for People Facing Serious Illness (Oxford University Press, 2011), her poetry has appeared in Poet Lore and The Broadkill Review and been featured on Poetry Friday blogs. Janice, a mother of six, says that she finds "working out, mastering the body, inspires me to create poetry--mastering the language and the mind. I haven't mastered either yet," she admits, "but I keep trying."
pwax:
As the mother of 2 girls I can easily relate to this poem. Well done! Phyllis
Posted 03/06/2012 04:38 PM
Glen Sorestad:
Wow! What this poem manages to catch in a mere 12 brief lines would take far more words to paraphrase. Succinct and poignant, a great poem to start my day.
Posted 03/06/2012 07:52 AM