The Musselman cemetery
Is tucked under the cliff,
Draped in broad-leafed vines
And overhanging mimosas
Each grave crowned by
A crescent moon and a star
In cement, fresh flowers
Scattered in cracked vases.
The mosque sits forgotten
Above the sea in this Chinese
Buddhist-Catholic city
Of billowing incense, smoke
Rising from temple courtyards,
Lost among tropical foliage
Across the world from dry
Desert stone, far from home.
© by Emily Strauss. 
Used with the author's permission.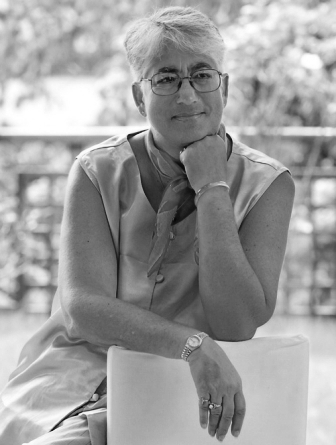 Emily Strauss lives near San Francisco, California. A former English teacher who now tutors privately, Emily's poems have appeared in Wordletting, Snakeview, Poetry Macao, and other journals. Her work tends to focus on the natural world, on images and sense perceptions. When she's not writing, Emily enjoys gardening, cooking, camping, and hiking.
ems:
Thank you for your responses. I lived in Macao for three years and only found this overgrown tiny cemetery by wandering a lot. I always wondered how Moslem sailors ended up there.
Posted 03/09/2012 12:36 PM
Kay Sanders:
What intrigues me are those "fresh flowers scattered in cracked vases."
Posted 03/07/2012 03:19 PM
dotief@comcast.net:
This poem evokes an interesting loneliness and begs the question "Why are these graves and mosque here 'far from home?'" I love it when poetry makes me wonder.
Posted 03/07/2012 02:41 PM
Wilda Morris:
This poem makes me want to go to Macao!
Posted 03/07/2012 02:22 PM