Your new watch can tell
what time it is right down
to the second, the split second.
Your new watch has no face;
instead there's a blinking grill
where the numbers change
constantly. I would like to say
that in this rapid split-second
parade we can see the flow
of time — always changing,
never changing, a river slipping
over rocks and sand – but it's
only time, a human concept
after all, not a real river.
Your new watch honors
each second by giving it
its own number which tumbles
swiftly away, anchoring us,
if we let it, in Now.
Still I prefer the grace
of the analog clock
with its face, its hands,
where every moment
is linked to those around it:
each moment has a history
and a future, where it's
ten past the hour, half past,
a quarter till, five of, as though
each moment is truly part
of a fluid whole. But in fact
the real tellers of time
are the sun, the sky,
the wrinkles on our faces,
the bruises on our souls.


From Wild Domestic (Pearl Editions, 2011).
Used with the author's permission.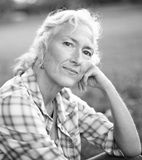 Tamara Madison teaches English and French at a public high school in Los Angeles. Raised on a citrus farm in the California desert, Tamara's life has taken her many places, including Europe and the former Soviet Union, where she spent 15 months in the 1970s). A swimmer and dog lover, Tamara says, "All I ever wanted to do with my life was write, and I mostly write poetry because it suits my lifestyle; I like the way one can say so much in the economical space of a poem."
rcstewart3:
Wow! Form and content are so wonderfully melded. And just the PERFECT "twist" at the end...slowing down to what really matters. Thank you for sharing!
Posted 03/13/2012 01:58 PM
rtaylor947@aol.com:
An excellent poem, so in touch with its theme it seems to have a tick-tock of its own.
Posted 03/12/2012 09:05 AM
raindame9:
A beautiful poem. Thank you, Tamara. Helen P.
Posted 03/11/2012 05:40 PM
ghctenmile@earthlink.net:
Thanks for this lovely economy of time, all in one poem!
Posted 03/11/2012 02:49 PM
Buckner14:
When I saw the title, I wondered where this poem could go. I wonder no long--terrific!
Posted 03/11/2012 12:25 PM
dotief@comcast.net:
What can I say that hasn't already been said here? Wonderful poem!
Posted 03/11/2012 10:48 AM
69Dorcas:
Poetry tells the truth defying logic and reason. Yes, it is only time and not how we fill our existence. Yes, I recognize before and after, too. I am also not crazy about the electronic books. I would rather turn pages myself. Thank you. You are a contemplative.
Posted 03/11/2012 10:33 AM
LisaV:
beautiful, I love the ending especially. Thank you Tamara!
Posted 03/11/2012 10:05 AM
loisflmom:
A lovely poem! We dog lovers, swimmers, wearers of analog watches, "wrinkles on our faces, bruises on our souls" can feel that Tamara expresses what time means to us!
Posted 03/11/2012 09:16 AM
debsarsfield:
Your poem prompts pondering,"flow of time-always changing, never changing", love the truth of the last 4 lines.
Posted 03/11/2012 08:48 AM
Katrina:
Yes. I agree; and the ending was unexpectedly resonant. I've always thought time is just the shadow of the sun since Stone Henge or earlier, but perhaps the sun works on us deeper than we know.
Posted 03/11/2012 07:43 AM
Anjie:
Beautiful, Tamara! Those last two lines are so true. I love how you bring out the "grace" of the analog clock, and of course, how you build up to your ending.
Posted 03/11/2012 07:38 AM