It is my dream to have you here with me,
Out of the heated city's dust and din -
Here where the colts have room to gambol in,
And kine to graze, in clover to the knee.
I want to see your wan face happily
Lit with the wholesome smiles that have not been
In use since the old games you used to win
When we pitched horseshoes: And I want to be
At utter loaf with you in this dim land
Of grove and meadow, while the crickets make
Our own talk tedious, and the bat wields
His bulky flight, as we cease converse and
In a dusk like velvet smoothly take
Our way toward home across the dewy fields.


This poem is in the public domain.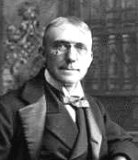 James Whitcomb Riley (1849 - 1916) was an American poet best known for his children's poems and dialect-based verses. James was born in Greenfield, Indiana, and later moved to Indianapolis; homes in both cities are preserved and open to the public today. James was hugely popular during his lifetime. A bestselling author who traveled the country speaking to sell-out crowds, he never married or had children of his own, but he loved children and they loved him back. When he died, more than 35,000 people came to pay their respects as James lay in state under the Indiana capitol dome.
Glenda Beall:
James Whitcomb Riley is one of my favorite poets. When I was a child, my brother memorized his poetry and recited it for me. Thanks for this lovely poem.
Posted 03/13/2012 12:26 AM
69Dorcas:
"...crickets make our own talk tedious." Absolutely charming! A kind of homeiness I always longed for, now found in the words of a poem leftover Thanks.
Posted 03/12/2012 08:20 PM
KevinArnold:
Unexpected couplet: Out of the heated city's dust and din - Here where the colts have room to gambol in,
Posted 03/12/2012 07:38 PM
marenomitchell:
Straight back to a childhood summer.
Posted 03/12/2012 04:26 PM
stocktonryan:
My brain relaxes when I read this poem.
Posted 03/12/2012 03:46 PM
Sherry:
I am so grateful for Your Daily Poem!
Posted 03/12/2012 09:47 AM
Janet Leahy:
"in a dusk like velvet"—so enticingly lovely
Posted 03/12/2012 09:17 AM
dotief@comcast.net:
A bit like "Fern Hill" by Dylan Thomas. I should really like to be enjoying myself in either setting.
Posted 03/12/2012 08:29 AM