I thought of you this afternoon
as I bent down under the old front oak
to pick up sticks. They were all over –
twigs, branches, whole limbs broken off
under the wet heft of a late winter snow
and broken again against the ground
with their own weight crashing.
Scabbed, cindery, riddled by insects,
the windfall snapped easily in my hands,
all its give gone,
and I gathered them,
thinking you would have too, and how to a child
this once seemed pointless,
like picking litter from a parking lot,
which you also insisted on. Now
six armloads of dead oak lie stacked
on the porch – enough to kindle
in the soft ash on cold stone
a month of fire.
From As If Gravity Were a Theory (Cider Press, 2006).
Used with the author's permission.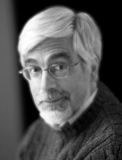 Don Colburn was born in Georgia, grew up in Massachusetts, and now lives in Portland, Oregon. A longtime newspaper reporter who didn't start writing poems until he was nearly 40, Don worked for The Washington Post and The Oregonian during the 33-year course of his newspaper career, and was a finalist for the Pulitzer Prize in feature writing. He has published three collections of poems, one of which won the Finishing Line Press Prize, and another won the Cider Press Review Book Award. Don's poems have appeared in anthologies and many magazines and he is a board member of Friends of William Stafford. Learn more about him at www.doncolburn.net.
Sharon Urdahl:
Beautifully rendered...fires up my own memories. Thank you.
Posted 03/14/2012 04:02 PM
lincolnhartford:
ah the gift of those armloads, the power of fire. who knew?
Posted 03/13/2012 03:40 PM
rcstewart3:
A good poem makes the reader want to know more...and I do! And yet, it is the missing details that allows it to be so universal. Thank you for sharing your work. Excellent.
Posted 03/13/2012 01:46 PM
Elizabeth Mc Bride:
Nice word pictures. You took me there
Posted 03/13/2012 01:27 PM
69Dorcas:
You did well to delay writing poetry until 40, your senibilities gathered, and such lovely verses surfaced. Thank you.
Posted 03/13/2012 01:16 PM
CATHY LATOUR:
READING THE POEM ABOVE,A SENSE OF AWE,AS IF I HAD KNOWN THE POEM WITHOUT YOUR PERFECT WORDS. C.M.L.
Posted 03/13/2012 11:49 AM
wendy morton:
I am delighted by the grace of this poem, its fine music.
Posted 03/13/2012 11:48 AM
Jo:
I really like your poetry, Don. Am re-reading As if Gravity Were a Theory, and highly recommend it. Windfall was a new word for me. Enjoyed this layered poem.
Posted 03/13/2012 11:05 AM
peninsulapoet:
Beautiful poem to start the day with.
Posted 03/13/2012 10:03 AM
KevinArnold:
I'd never thought about the word windfall . . . fine poem.
Posted 03/13/2012 09:11 AM
LisaV:
thank you, Don, for making me imagine that "you," of the poem, that mother or father who insisted on useless pasttimes that become much more meaningful as we age. What a great poem.
Posted 03/13/2012 09:05 AM
phebe.davidson@gmail.com:
The poem is, simply, beautiful--beautifully crafted, beautifully conceived, beautifully felt.
Posted 03/13/2012 07:16 AM
Nabby Dog:
William Stafford once said that good poetry demands "that special kind of attention" and there is no better example of that assertion than this poem. With subject matter that could have easily slipped into sentimentality Colburn demands our special attention with startling images and commanding language. This poem is a gift and a blessing.
Posted 03/13/2012 06:31 AM