Be the shoes.
Be the Eiffel tower heels
preening in periwinkle linen
outlined in patent leather ivory.
Be the baby skin red leather wedgies
offering up their open backs
and straps to tie suggestively around the ankles.
whose rhinestones flash the legs?
†
and shuffles out the door.
†
Be all the pretty shoes no longer wearable.
Be the pleasure remembered all day long.
†
© by Jean Colonomos.
Used with the authorís permission.
†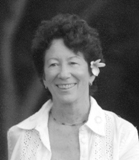 Jean Colonomos began her artist's journey in New York City as a professional modern dancer. Her last engagement was with the Martha Graham Dance Company. She has written about dance for Dance Magazine, The Village Voice, and other publications. Jeanís poetry has appeared in many publications, most recently The Rockford Review. She is also a playwright, earning first prize from the University of Southern Oregon for her verse play, CARRIE, and a citation from the City of Los Angeles for BLACK DAWN, a play about female victim survivors of the Pol Pot regime which was produced by Playwrights' Arena.
†
annspun:
Jean, Your subtle truth of aging told, Through spike heel's journey, tall and bold, Age has beauty to behold..... And for that I thank you..... Best, Ann
Posted 03/19/2012 04:20 PM
drsidini:
A royal poem for a royal subject. Dazzling in it's elegant examination of shoes. Takes the reader on a joyous walk. Love, Sid
Posted 03/18/2012 04:21 AM
Elizabeth McBride:
Love it Jean. Few words to say much.
Posted 03/16/2012 01:51 PM
GabyPoet:
Wow! I am immediately zapped back to the day when I could wear those towering fabulous concoctions on my feet. Secret is, I am STILL those shoes, even years after I had to trade them in for more sensible ones. Brava to Jean!!!!
Posted 03/16/2012 01:11 PM
marenomitchell:
Love the unique command of "be" and how well it is used in this strong poem.
Posted 03/16/2012 11:23 AM