Frost carpets the fields
sloping to a crinkled sea.
The air,
cotton crisp
as spring leaps in.
Satin crows
descend from a silver sky.
Squabbling, they graze
on chilled dewdrops.
The sunrise,
a red ribbon glow,
warms tall tree trunks
basking in gliding sunlight.
A flame horizon
burns a candy stripe sky
on a tangerine morning.
© by Máire Morrissey-Cummins.
Used with the author's permission.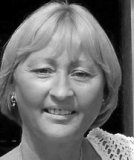 Máire (pronounced Moira) Morrissey-Cummins is a native of Ireland who lived in Holland and Germany for many years due to her husband's work. Recently retired from a financial career, she's now back in County Wicklow, the "garden of Ireland," and has adopted writing, painting, and gardening as her new interests. Wicklow's beautiful waterside setting is providing much inspiration ("I can see the sea from my bedroom window," says Máire) for this mother of two who has garnered numerous publication credits already, in both journals and anthologies.
rcstewart3:
Love that "crinkled sea!"
Posted 03/23/2012 03:39 PM
Eiken:
Thank you for your comments. I have a photo of the Tangerine morning in question, it really was a flame colour and was ribbons of red, yellow, orange, delightful. MĂ¡ire x
Posted 03/23/2012 02:42 PM
marenomitchell:
Thanks for this sensory-filled morning from across the Pond!
Posted 03/23/2012 01:05 PM
Buckner14:
Wonderful images!!
Posted 03/23/2012 11:33 AM
69Dorcas:
Reminds me of my father who introduced me to the tangerine as a child. True enough, a rather ambiguous hue but, there is a tangerine glow to a sky.
Posted 03/23/2012 09:09 AM
stocktonryan:
This poem tastes good to read.
Posted 03/23/2012 08:38 AM