May these vows and this marriage be blessed.
May it be sweet milk,
this marriage, like wine and halvah.
May this marriage offer fruit and shade
like the date palm.
May this marriage be full of laughter,
our every day a day in paradise.
May this marriage be a sign of compassion,
a seal of happiness here and hereafter.
May this marriage have a fair face and a good name,
an omen as welcomes the moon in a clear blue sky.
I am out of words to describe
how spirit mingles in this marriage.
 

This poem is in the public domain.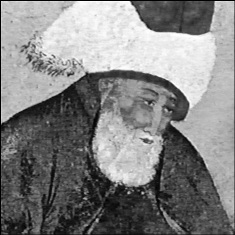 Mawlânâ Jalâl ad-Dîn Muhammad Balkhî, better known as Rumi, (1207 - 1273) was born in Afghanistan but was forced into a nomadic life as a child because his family feared Mongol invasion and general political unrest. Ultimately, Rumi settled in what is now the country of Turkey, where he became a teacher, musician, spiritual leader, and poet. Profoundly affected by meeting Persian poet Attar as a teenager, and by his friendship with an Iranian mystic later on, Rumi produced massive amounts of letters, lectures, and poetry on the purpose and meaning of life. Eight centuries later, his poems are still read and revered around the world.
SilverOne:
Beautiful blessing from Rumi....May every marriage start this way...and stay this way.
Posted 09/03/2014 09:04 AM
rhonasheridan:
Beautiful.Its so nice to hear something good come out of that part of the world - which has so much brutality and misery. There is so much beauty there - especially in their writing.
Posted 09/03/2014 01:11 AM
KevinArnold:
Oh yes, Rumi. A beatitude and a blessing. I'd never seen this one. Every day a day in paradise indeed.
Posted 09/02/2014 11:27 PM