†
The golden-rod is yellow;
The corn is turning brown;
The trees in apple orchards
With fruit are bending down.
The gentianís bluest fringes
Are curling in the sun;
In dusty pods the milkweed
Its hidden silk has spun.
The sedges flaunt their harvest,
In every meadow nook;
And asters by the brook-side
Make asters in the brook.
From dewy lanes at morning
the grapesí sweet odors rise;
At noon the roads all flutter
With yellow butterflies.
By all these lovely tokens
September days are here,
With summerís best of weather,
And autumnís best of cheer.
But none of all this beauty
Which floods the earth and air
Is unto me the secret
Which makes September fair.
ĎT is a thing which I remember;
To name it thrills me yet:
One day of one September
I never can forget.
†
†
†
Originally printed in Poems (Roberts Brothers, 1892).
This poem is in the public domain.
†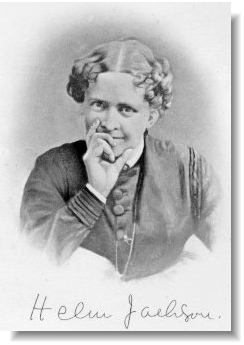 Helen Maria Hunt Jackson (1830 - 1885) was born in Amherst, Massachusetts, and was a friend and classmate of Emily Dickinson. Gifted and prolific in all genres, Helen was best known as a passionate defender of Native American rights; one account refers to her as "the most brilliant, impetuous and thoroughly individual woman in her time." She hoped her novel, Ramona, would impact society as much as Uncle Tom's Cabin, a novel written by her friend Harriet Beecher Stowe. Ultimately, it did--though Helen didn?t live long enough to realize it; a†play based on Ramona has been performed in California every year since 1923. For all her success as a writer, Helen suffered much personal tragedy; she was plagued with poor health for most of her life, lost both parents before she was eighteen, lost her first husband to a war incident, and watched both of her sons die from illness.
†
†
Rita:
I love this poem. They taught it to us in high school in 1962, but they left off the last eight lines!
Posted 10/18/2020 12:53 PM
Anne:
My father always quoted this to me in September. Nice to finally find it. Thanks for
Posted 08/08/2020 09:38 PM
anne.lehman2929@att.net:
"And asters by the brook-side Make asters in the brook" are lovely lines. The mysterious nostalgia at the end caps the poem well. Lovely--
Posted 09/04/2014 07:22 PM
AllegraSilberstein:
Thank you for sharing this lovely poem and also something of Helen Hunt Jackson's life...what an amazing woman. Allegra
Posted 09/04/2014 02:09 PM
erinsnana:
I love this!
Posted 09/04/2014 10:56 AM
Sherry:
Her rhyming lines are very clever. I'm glad I learned about this writer today.
Posted 09/04/2014 08:15 AM