And so you go
out there, to life,
eager to leave the nest,
impatient to spread your wings.
In your face
there is such promise.
In your laugh, such nonchalance.
So much has changed,
yet there are moments—
       subliminal blips—
when I see still the toddler who,
       splayed in my lap or
              head snug against mine,
drank in one story after another,
whispered secrets in the dark,
spilled out kisses and laughs like a beneficent king.
There are moments
       when a pleased expression,
random outburst,
furrowed brow,
brings back a cherished glimpse
of that little boy lost.
In those moments,
it is hardest to say
farewell.
But I must,
and I can,
and I do—
then watch with pride and pain
through tears and years
of love.
And so you go.
From A Mother of Sons: Poems of Love, Wisdom, and Dreams (Loyola Press, 2004)
Used with the author's permission.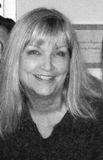 Jayne Jaudon Ferrer is the author of four books of poetry and a nonfiction books about games. A public relations specialist and freelance journalist, Ferrer speaks frequently at chuches, schools, and writing-related events. Her work has appeared in hundreds of publications, ranging from Boca Raton Magazine to Christian Parenting Today, and she is the founder and editor of YourDailyPoem.com. Originally from Florida, Jayne now lives in Greenville, South Carolina. The mother of three sons, she enjoys reading, music, old movies, and good conversation. Learn more about Jayne at www.jaynejaudonferrer.com.
Mary Lou Taylor:
I felt every word.
Posted 09/06/2014 01:37 PM
CamilleBalla:
So beautiful! I can feel the emotion and so well crafted.
Posted 09/05/2014 11:00 PM
jtmilford:
A beautiful poem the moment of letting a child go.
Posted 09/05/2014 08:58 PM
jr1010:
Yes, they go. Beautiful. Thank you, Jayne.
Posted 09/05/2014 09:02 AM
Buckner14:
So much love! Congratulations to both of you.
Posted 09/05/2014 09:00 AM
Cindy:
nice- I can relate
Posted 09/05/2014 08:56 AM
mimi:
indeed...i've tried to write about this over the years and still have not found the right words...you have, Jayne, thanks!
Posted 09/05/2014 07:40 AM
pwax:
Beautiful--and true. Thanks, Jayne.
Posted 09/05/2014 06:41 AM
phebe.davidson@gmail.com:
A beautiful poem, Jayne, and deeply felt by me this morning.
Posted 09/05/2014 06:24 AM
Latha:
And so it is in all our lives when sons and daughters grow up and leave! Lovely poem!
Posted 09/05/2014 04:36 AM
rhonasheridan:
And now it is the same with grand daughters. Hey-ho! One loves them all to bits. I liked your poem very much.
Posted 09/05/2014 12:58 AM
erinsnana:
I love this! I have two grown sons, so I can relate!
Posted 09/04/2014 11:47 PM
Ross Kightly:
And they do. They go. But they never truly leave completely. And you never remain completely at home.
Posted 09/04/2014 11:30 PM
twinkscat:
How prolific you are! And so you go...
Posted 09/04/2014 11:26 PM
TheSilverOne:
How fast those years go. Beautiful poem mothers and fathers, too, relate to.
Posted 09/04/2014 11:22 PM
jonidee61:
Beautiful!
Posted 09/04/2014 11:21 PM