As I back the car into the clearing
beside the lake, I drive two deer apart,
an unexpected wedge

between them. Their fear
of the unnatural, the machine in the grass,
and their instinct for survival

force them to spread, two lives
in opposite directions,
into the just unleafed woods.

Each one stops in its color of tree bark
and watches as the black Lab jumps
out of the car, rushes to the lake and waits

for the first ball to be thrown.
But there is paralysis around us. The deer
are like fossils of something extinct

in panic. How will they retrieve each other?
Where is their twinship now,
their concourse, their ambling in step,

the parallel bend of their necks?
I feel them observe our quiet relay,
me, the ball, the dog, the water surface

that takes the shape of a sun-filled V
in the dog's wake, as if she's invented a flock
of geese, is leading it south toward winter.


From The Artemis Sonnets, Etc. (Turning Point, 2011).
Used with the author's permission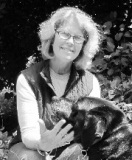 Anne Harding Woodworth is the author of two chapbooks and four books of poetry, the most recent being The Artemis Sonnets, Etc., published by Turning Point (2011). Her poems, essays, and reviews are published widely in literary journals and at various sites online. Her poem "Taps" recently won the "Musical Mood Poetry Contest" at the Virginia Arts of the Book Center, where the poem will be made into a broadside. Anne divides her time between a cabin in the mountains of Western North Carolina and Washington, DC, where she is on the Poetry Board of the Folger Shakespeare Library.
Patricia:
Anne, what a lovely poem and what a lovely tribute to the dog, whom I've heard is no longer with us. Patricia
Posted 05/01/2012 01:35 PM
rcstewart3:
Ah. Very nice! I like the way your stanza breaks deepen the feeling of separation between the deer. 3-line stanzas, too, push a reader forward, haltingly. I can feel the discomfort of the deer!
Posted 04/20/2012 12:14 AM
Donna Pflueger:
Anne, so much to love about your poem, so much to think about, your final stanza so alive! It touched all of my senses - especially my mind! This is a poem I always want to remember. Thank you.
Posted 04/18/2012 09:38 PM
Joe Sottile:
I love the word "juxtaposes" in Jayne's intro.
Posted 04/18/2012 05:41 PM
Buckner14:
Beautiful: the images, the mood, word choice--everything works together, mingling tension and joy.
Posted 04/18/2012 04:47 PM
Glen Sorestad:
A fine poem, Anne. Your attention to small but important details of the scene is so keen and so understanding. Bravo!
Posted 04/18/2012 01:49 PM
Jo:
Thank you for opening my day--contemplating your words, seeing the deer --like fossils of something extinct, and the playfulness of the dog, showing the beauty of opposites.
Posted 04/18/2012 10:07 AM
KevinArnold:
Anne held me from the title. What a powerful word.
Posted 04/18/2012 08:42 AM
Ginny C.:
Beautiful poem. Beautiful in its understanding of the deer's way of being and the dog's very different way of being. Lovely contrast and echoes of the human condition: to be pulled apart by the arrival of something strange, awful and unexpected, as the deer are; to have our sympathies pulled in two different directions, as the speaker of the poem is.
Posted 04/18/2012 08:31 AM
dotief@comcast.net:
Such a moving piece that addresses some very really "human" concern--separation at the hands of fate. And what magical imagery--the simile comparing the dog's wake with a flock of geese leaving. Powerful!
Posted 04/18/2012 08:20 AM