I lie stretched out upon the window-seat
And doze, and read a page or two, and doze,
And feel the air like water on me close,
Great waves of sunny air that lip and beat
With a small noise, monotonous and sweet,
Against the window — and the scent of cool,
Frail flowers by some brown and dew-drenched pool
Possesses me from drowsy head to feet.

This is the time of all-sufficing laughter
At idiotic things some one has done,
And there is neither past nor vague hereafter.
And all your body stretches in the sun
And drinks the light in like a liquid thing;
Filled with the divine languor of late spring.
This poem is in the public domain.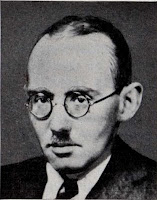 Stephen Vincent Benét (1898 - 1943) was born into a military family for whom poetry was a particular pleasure. Afflicted with scarlet fever as a toddler, his eyesight was permanently damaged, but Steven loved to read and began writing poetry and winning prizes for it while still a child. At seventeen, he published his first book and entered Yale University. During his brief life, Stephen created work in almost every genre of literature, earning two Pulitzer Prizes, a Guggenheim Fellowship, and an O. Henry Short Story Award along the way. His story, "The Sobbin' Women," based on the Roman legend of the abduction of the Sabine women, was the basis for the hit movie "Seven Brides for Seven Brothers."
doooode:
if someone is there, 10 years in the future, please say hi? or have I been forgotten does this path end?
Posted 03/29/2022 11:06 PM
doooode:
if someone is there, 10 years in the future, please say hi? or have I been forgotten does this path end?
Posted 03/29/2022 11:06 PM
doooode:
hello
Posted 03/29/2022 11:05 PM
rcstewart3:
Ahhhh!
Posted 05/02/2012 12:35 PM
KevinArnold:
What a strong poem. Thanks!
Posted 05/01/2012 10:01 AM
dotief@comcast.net:
Wonderful sonnet! Makes me want to lie down and soak up the morning atmosphere!
Posted 05/01/2012 08:11 AM