When the white sheet is pulled up
over a face, it signals the end.
The doctor writes time of death.
White sheets come out as saviors
to tender thin beans, green plump tomatoes,
yellow trumpet zucchini blossoms.
Those who heed weather warnings
take action like nurses readied by codes.
Billowing cotton protectors capture warm,
shroud the stems of the living.
Ground covers are thrown off.
Plants open their buds, stretch,
©
by Marilyn Zelke-Windau.
Used with the author's permission.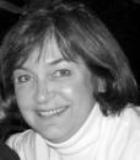 Marilyn Zelke Windau lives in Sheboygan Falls, Wisconsin with her husband and year old golden retriever. Recently retired from many years of teaching art to elementary school children, she enjoys her newly free hours to write, garden, and paint. Her poems have appeared in several publications including Verse Wisconsin, Seems, Fox Cry, and Stoneboat. She is a member of the Wisconsin Fellowship of Poets.
LindaCrosfield:
Never thought of it that way—covering plants akin to covering the decease. What a great metaphor! Good poem—and so apt for this time of year.
Posted 05/02/2012 09:45 AM
Maryann Hurtt:
Love what we think of as opposites. Thank you.
Posted 05/02/2012 09:43 AM
Linda Muldoon:
I thoroughly enjoyed the twist-- a comparison so obvious and invisible at the same time. Wonderful insight.
Posted 05/02/2012 09:29 AM
Kay Sanders:
I love the way you turn about our expectations - a sign of ending becomes the means of beginning.
Posted 05/02/2012 09:24 AM
KevinArnold:
Thanks Marilyn, I'm starting the day with a smile.
Posted 05/02/2012 09:06 AM
Marilyn L Taylor:
Strong poem, Marilyn.
Posted 05/02/2012 08:48 AM
dotief@comcast.net:
I love the comparisons in this poem--they show how life and death are intricately intertwined. Great poem!
Posted 05/02/2012 08:39 AM
ed werstein:
good job, Marilyn!
Posted 05/02/2012 07:43 AM
Janet Leahy:
I've taken this action several times this cold and windy spring, "shroud the stems of the living," that's a great line! Thanks, Marilyn
Posted 05/02/2012 06:38 AM