Today, the school of clouds
swims out of reach – in a puddle by violets,
I touch their spawn.
This poem first appeared in Red Berry Review.(Red Berry Press).
Used with the author's permission.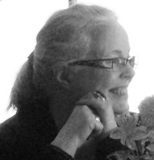 Sidney Bending is a retired graphic artist living on Vancouver Island on the west coast of Canada. Her award-winning poetry and flash fiction have been published in Canada, the United States and Sweden. Sidney is a member of the Victoria Writer's Society and the Heron's Quill poetry group. Daily walks by the water inspire images for her poems. With a new digital camera (and membership in two photography clubs), she hopes to create a chapbook of photographs and poetry.
marenomitchell:
Exquisite!
Posted 05/04/2012 11:24 AM
trailpny:
Lovely the way the lines stretch out. The poem looks like a puddle, but not self-consciously so. Nice poem.
Posted 05/04/2012 11:00 AM
judithc:
What deft images swim in your few words. What power. Lovely, memorable.
Posted 05/04/2012 10:55 AM
LindaCrosfield:
What a feat...tricking this reader's mind into so many ways of experiencing this poem. Reminiscent of red wheelbarrows. Lovely.
Posted 05/04/2012 10:34 AM
Reganz:
Despite, and because of, its brevity, there are many ways to interpret each word and phrase of this poem. Like Tyler, I am reading it more than once and am opening my mind to a different meaning each time.
Posted 05/04/2012 10:18 AM
Tyler Gabrysh:
Efficient and wondrous; worth of many reads!
Posted 05/04/2012 09:54 AM
wendy morton:
Watch the world, this poem tells us. Lovely.
Posted 05/04/2012 09:37 AM
KevinArnold:
Shape counts. I knew Sidney had an eye for the shape of things before looking at her bio. Such balance! The middle line is balanced by itself and, combined with the other lines, balanced again. Good language too. 'spawn' is completely unexpected, yet just right.
Posted 05/04/2012 09:09 AM