Lois liked to see the bullets bounce
off Superman's chest, and of course
she was proud when he leaned into
a locomotive and saved the crippled
orphan who had fallen on the tracks.

Yet on those long nights when he was
readjusting longitude or destroying
a meteor headed right for some nun,
Lois considered carrying just a smidgen
of kryptonite in her purse or at least
making a tincture to dab behind her ears.

She pictured his knees giving way,
the color draining from his cheeks.
He'd lie on the couch like a guy with
the flu, too weak to paint the front
porch or take out the garbage. She
could peek down his tights or draw
on his cheek with a ball point. She
might even muss his hair and slap
him around.

"Hey, what'd I do?" he'd croak just
like a regular boyfriend. At last.

From Fever (Red Hen Press).
Used here with the author's permission.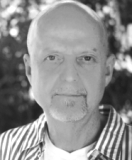 Ron Koertge blames a 3-month stint in bed with rheumatic fever at age 12 as the reason he became a writer. Raised in rural Illinois, he now lives in South Pasadena, California, and is retired after teaching English at Pasadena City College for thirty-seven years. In addition to poetry, Ron writes award-winning fiction for young adults--which is as quirky and irreverent as his poetry. Learn more about Ron at http://ronkoertge.com.
LindaCrosfield:
Sharing this one with my favourite comic book guy, Gareth of Legends in Victoria, BC!
Posted 05/05/2012 10:43 AM
judithc:
Nice reversal. Well done!
Posted 05/05/2012 10:35 AM
Sharon Urdahl:
love it...a smile to start the day!
Posted 05/05/2012 09:36 AM
Jo:
This is really fun. What a great way to get up on a rainy, dark day.
Posted 05/05/2012 07:46 AM