The weekday Mass at 6 a.m.

They move like caterpillars

Father Doyle says the Mass

and then goes back to the rectory

Father Doyle, in full vestments,

and lifts her like a chalice

and places her in the front pew

before he ascends to the altar.

when his mother's asleep,

Father Doyle comes back to the Church

and rehearses in the dark

asked him to sing at her funeral.

she could go at any time.

he doesn't want to miss a note.

The last thing she ever said was

"Son, I'll be listening."

Used with the author's permission.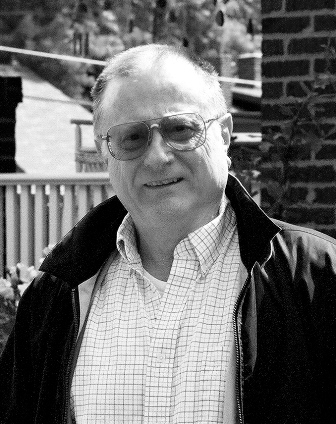 Donal Mahoney lives in St. Louis, Missouri. A native of Chicago, he spent the early Seventies actively submitting poems to print journals and enjoyed some success. He then took a 35-year hiatus from poetry to work as an editor of prose at such lofty establishments as the Chicago Sun-Times, Loyola University Press, and Washington University in St. Louis to support and educate five children. Upon retirement, Donal took to his recliner, and was perfectly happy sitting and listening to Gregorian chant all day. After three years, however, his wife interrupted with a Gregorian chant of her own. She bought Donal a computer and showed him where the boxes of still-unpublished poems had been stored in the basement for many years. Thus Donal began actively submitting again in June 2008. He has since had nearly three hundred poems published here and abroad, an achievement he credits largely to his wife.
Eiken:
Sad but beautifully written, I believe she will be listening!
Posted 05/18/2012 12:51 PM
Buckner14:
This is utterly moving. Thank you.
Posted 05/11/2012 05:46 PM
Sharon Urdahl:
Clever and beautiful expression of old age and a mother/son relationship...glad you stopped chanting and started writing again!
Posted 05/10/2012 10:54 PM
marenomitchell:
A poem of quality from beginning to end.
Posted 05/10/2012 06:11 PM
cindy@laferle.com:
This is absolutely beautiful. Thanks for sharing it. As the daughter of a mother who has dementia, this touched me deeply
Posted 05/10/2012 02:18 PM
judithc:
What a tender tribute.
Posted 05/10/2012 11:48 AM
LindaCrosfield:
Perfect word choices throughout—"in a lump", "doesn't want to miss a note", in addition to the chalice one. I can see the faithful, all caterpillaring down the aisle. Good one.
Posted 05/10/2012 10:50 AM
Glen Sorestad:
I love Donal's poems. Keep them coming.
Posted 05/10/2012 10:08 AM
jeanie:
lovely!!
Posted 05/10/2012 08:40 AM
dotief@comcast.net:
This IS a very moving piece. It is a powerful testament to the nature of human beings--how we live our lives and how we face our own mortality and that of those we love. Very good poetry!
Posted 05/10/2012 08:34 AM
CamilleBalla:
What a wonderful poem beginning with the daily morning scene and weaving behind the scenes--the sensitivity, the care, the reverence, the love--"lifts her like a chalice". Beautiful!! Thank you!
Posted 05/10/2012 08:33 AM
Marilyn L Taylor:
Very moving, very touching-- without becoming overloaded with sentiment. Nicely restrained, nicely done.
Posted 05/10/2012 07:46 AM
phebe.davidson@gmail.com:
I'm grateful to find this--the tone, especially, is superb. This quiet, insistent narrative carries the day without fanfare or pretension.
Posted 05/10/2012 07:30 AM