The only job I didnít like, quit
after the first shift, was selling
subscriptions to TV Guide over the phone.
Before that it was fast food, all
the onion rings I could eat, handing
sacks of deep fried burritos through
the sliding window, the hungry hands
grabbing back. And at the laundromat,
plucking bright coins from a palm
or pressing them into one, kids
screaming from the bathroom and twenty
dryers on high. Cleaning houses was fine,
polishing the knick-knacks of the rich.
I liked holding the hand-blown glass bell
from Czechoslovakia up to the light,
the jewelled clapper swinging lazily
from side to side, its foreign,
A-minor ping. I drifted, an itinerant,
from job to job, the sanatorium
where I pureed peas and carrots
and stringy beets, scooped them,
like pudding, onto flesh-colored
plastic plates, or the gas station
where I dipped the ten-foot measuring stick
into the hole in the blacktop,
pulled it up hand over hand
into the twilight, dripping
its liquid gold, pink-tinged.
I liked the donut shop best, 3 AM,
alone in the kitchen, surrounded
by sugar and squat mounds of dough,
the flashing neon sign strung from wire
behind the window, gilding my white uniform
yellow, then blue, then drop-dead red.
It wasnít that I hated calling them, hour
after hour, stuck in a booth with a list
of strangersí names, dialing their numbers
with the eraser end of a pencil and them
saying hello. It was that moment
of expectation, before I answered back,
the sound of their held breath,
their disappointment when they realized
I wasnít who they thought I was,
the familiar voice, or the voice they loved
and had been waiting all day to hear.
From What We Carry (BOA Editions Limited, 1994)
Used with the authorís permission.
†
†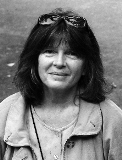 Dorianne Laux was born in Maine and worked as a sanatorium cook, gas station manager, maid, and donut holer before becoming a poet. As a single mother, she took classes and workshops whenever she could, at a local junior college, writing poetry during shift breaks. In 1983, Dorianne moved to Berkeley, California, began writing in earnest and, supported by scholarships and grants, completed a B.A. Degree in English from Mills College.

Her most recent books of poems are

The Book of Men

, winner of the Paterson Poetry Prize, and

Facts about the Moon

, recipient of the Oregon Book Award. Dorianne is also author of

Awake, What We Carry

, finalist for the National Book Critic's Circle Award, and

Smoke

. Her work has received three "Best American Poetry" Prizes, a Pushcart Prize, two fellowships from The National Endowment for the Arts, and a Guggenheim Fellowship. In 2014 singer/songwriter Joan Osborne adapted her poem, "The Shipfitter's Wife" and set it to music on her newest release, "Love and Hate", and the French translation of

What We Carry will be released soon by Editions du Cygne Press. Dorianne teaches poetry and directs the MFA program at North Carolina State University and is founding faculty at Pacific University's Low Residency MFA Program.
Mary Lou Taylor:
Here's a poem that gives most of us a reason to sit down and write. We've all held these varied jobs. But it's the last lines that will be hard to duplicate. Thank you, Jayne.
Posted 09/07/2014 02:15 PM
KevinArnold:
Yes, a bit of a poet of the last line, a group I regard highly.
Posted 09/07/2014 12:04 PM
wendy morton:
Dorianne's voice is the voice I love in this poem. She is calling us up with her images. What a fine poem.
Posted 09/07/2014 11:27 AM
Cindy:
I love every single line in this poem. We need to save these everyday details because they change over the years. Nowadays, with caller ID, that last wonderful bit of the poem might not happen.
Posted 09/07/2014 08:55 AM
TheSilverOne:
All those jobs turned into poetry! Something tedious and boring made interesting....even beautiful!
Posted 09/07/2014 07:12 AM
ghctenmile@earthlink.net:
Thanks to Dorianne for writing it and to you, Jayne, for publishing it here for us.
Posted 09/07/2014 01:03 AM