O Liberty--the dearest word
A bleeding country ever heard,--
We lay our hopes upon thy shrine
And offer up our lives for thine.

Sing in the tones of prayer,
Sing till the soaring soul
Shall float above the world's control
In freedom everywhere!
Sing for the good that is to be,
Sing for the eyes that are to see
The land where man at last is free,
O sing for liberty!

This poem is in the public domain.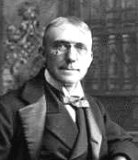 James Whitcomb Riley (1849 - 1916) was an American poet best known for his children's poems and dialect-based verses. James was born in Greenfield, Indiana, and later moved to Indianapolis; homes in both cities are preserved and open to the public today. James was hugely popular during his lifetime. A bestselling author who traveled the country speaking to sell-out crowds, he never married or had children of his own, but he loved children and they loved him back. When he died, more than 35,000 people came to pay their respects as James lay in state under the Indiana capitol dome.
nadia ibrashi:
A soaring poem. Thanks.
Posted 05/29/2012 12:55 AM