Stars have fallen to earth,
their light
quivers on indigo waves.
He raises white sails,
sets an even course
down the silver path
of the moon.
†
©†by Doris Bezio.
Used with the authorís permission.
†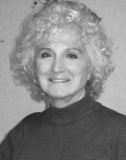 Doris Bezio is a poet and abstract artist. She believes that the same love of color, light and images are reflected in both of these creative expressions. A resident of De Pere, Wisconsin, Doris has been published in Verse & Visions, The Wisconsin Poets' Calendars, Fox Cry, Rag Mag, and Inspired Times, among others, and is compiling her poetry into a book to include her paintings.
mma:
Your poems are visual and visionary! I see a young boy setting a boat made by his own hands upon the indigo night, and the stars reflecting in his eyes as he watches it sail away on the starlit waves. Everyone will see a different story! So beautiful.
Posted 07/02/2013 08:07 AM
Gntleleo:
Love the poem, as well as the rest of your work( ALL of it !! )Well done, pretty bird ! JJ(aka Jerry)
Posted 07/07/2012 11:18 AM
69Dorcas:
Revlective terse. Better to watch the stars than to read stanzas and stanzas.
Posted 06/04/2012 10:34 PM
pwax:
Well done, Doris! Phyllis
Posted 06/04/2012 10:07 AM
Ralph Murre:
"perfect little poem", says this old sailor.
Posted 06/04/2012 07:59 AM
mimi:
short, sweet, beautiful poem Doris, PERFECT!
Posted 06/04/2012 07:34 AM
Wilda Morris:
Beautiful poem, Doris!
Posted 06/04/2012 06:38 AM