I see his old brogans in the closet.
Because this is not my bedroom
and not my closet, I hesitate before
opening the door wider and taking
one of the shoes in my hands.
It has been well worn, a deep brown
with the toes and heels a bit lighter.
There is a swelling in the leather
where a bunion strained the last,
I breathe in the lifelong scent of my father;
hickory from years of his pipe smoke,
cooking smells from Mother's apple pie
and Hungarian goulash, and that faint aroma
of sweat that came from his work in the yard.
I remember flying in my swing
while he stood behind, pushing and protecting
me from falling, the long walks we took
where he would show me
the discarded skin of a snake by the railroad tracks,
how he taught me to fish, guiding my fingers
while I threaded the worm onto the hook.
These shoes taught me how to kick a football,
Mother cautioning Dad to remember I was a girl
but he always came back with you teach her the girlie
things, I'll teach her about life.
I hear others arriving downstairs; I lean
down and place the shoe next to its mate and click
the closet door shut on the past.
© by Jackie Langetieg.
Used with the author's permission.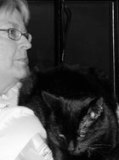 Jackie Langetieg writes poems in Verona, Wisconsin but wishes it were Verona, Italy. She is retired and shares her life with her son and two black cats.
Maryann Hurtt:
Love what you did with a pair of shoes.
Posted 06/17/2012 05:55 AM
pwax:
Wonderful details, Jackie.
Posted 06/16/2012 05:41 PM
marenomitchell:
Thanks. Couldn't have written a more poignant poem to my Dad than this.
Posted 06/16/2012 10:57 AM
davejr26.2:
Absolutely moving. Thank you Jackie. Dave Robertson
Posted 06/16/2012 10:28 AM
Marilyn L Taylor:
Wonderful imagery, Jackie. Marilyn L. Taylor
Posted 06/16/2012 09:13 AM
peninsulapoet:
beautiful poem.
Posted 06/16/2012 09:13 AM
Anjie:
Jackie, you take my breath away. Thank you for this lovely poem, and for inspiring me to write my own.
Posted 06/16/2012 09:13 AM
mimi:
absolutely beautiful poem, Jackie--how lucky you were to have such a father! Sharon Auberle
Posted 06/16/2012 08:01 AM
tiddles:
such cherished memories reflected in beautiful images. What a wonderful tribute you have written. Marilyn Windau
Posted 06/16/2012 07:28 AM
Janet Leahy:
Great last line, "click the closet door shut on the past." Reflective poem rich with memory.
Posted 06/16/2012 06:46 AM
LisaV:
That is lovely. "You teach her the girlie things, I'll teach her about life." Perfect.
Posted 06/16/2012 06:28 AM