I am lost in the realization

would've broken the door assembly

before figuring out how to take it off properly.

It's the knowing that I lack;

what can be forcibly pulled out,

and what needs to be unscrewed,

and where, exactly, are the screws anyway?

I leave with the rear, driver's side window back in place.

My father always told me so.

Used with the author's permission.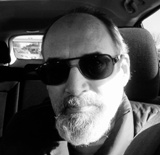 William Robertson started writing poetry when he was fifteen. He has appeared at many open mics, been the featured poet at several, and his work has been published in several magazines and newspapers. His book, Ordinary Things, was published in 2011. William lives in Sandwich, Illinois with Faith, his wife of 46 years, and a very demanding long-haired dachshund.
marenomitchell:
Double-hook ending. Very nice indeed!
Posted 06/28/2012 03:06 PM
Tricia :
I really like this poem. I'm about as unhandy as they come.
Posted 06/28/2012 02:44 PM
Joe Sottile:
Good one! I am always wrestling with the tools, and my father was very very handy! Everything takes me tenfold longer.
Posted 06/28/2012 09:50 AM
Gary Busha:
Yes, good observation and writing. I was called a "stupe" and years later realized I wasn't and then considered the sources.
Posted 06/28/2012 08:34 AM
Wilda Morris:
Unfortunately when a parent or teacher tells a child they cannot do something or that they are worthless, they usually do believe it. I've known people who lived for years believing themselves totally unworthy or useless. Thanks for expressing that truth so well.
Posted 06/28/2012 08:00 AM
Gail Goepfert:
I really like the matter-of-fact tone that brings us to the end.
Posted 06/28/2012 07:59 AM
Tony G:
William has very eloquently described my life.
Posted 06/28/2012 05:11 AM