Reading can be incredibly close-minded.

This is the message romantic bird-shadows inspire.

They float over the sand like sets of musical notes,

de-paged, free like waves are free and full

against eardrums. The waves also tempt me from

the soft adventure of reading on the beach.

I let the sand eat me, as it must eat all it encounters,

dead or alive. A woman is yapping about dolphins.

The sun stares at every body, even in naughty,

over-weighted places. I keep in the black and white

of thought, page-to-page. All else is too bright,

even for sun-glassed vision.

Used with the author's permission.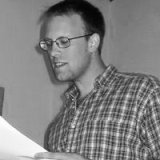 Jesse Breite has lived many places, but he considers Little Rock, Arkansas, his home. Jesse currently lives and teaches high school English in Atlanta, Georgia. He wrote his first poem while riding the train from Chicago to Quincy, Illinois. Now, he tries to make a poem every night before bed.
loisflmom:
Love it! From a dedicated beach reader-- year round in FL
Posted 07/08/2012 08:48 PM
69Dorcas:
This is cute. Full of imagery, sneaky peaks, and humor. Love it, even though I have not been to a beach gazing for a long while.
Posted 07/08/2012 12:49 PM
mimi:
excellent!
Posted 07/08/2012 08:27 AM
Katrina:
I'm sure I'm reading more into this than intended . . . I love the ambiguity of these hyphenated words: 'de-paged' is clearly off-the-page, but it almost sounds like a demoted page-boy - i.e. nonconforming to elaborate procedures. Similarly, 'sun-glassed' suggests wearing sunglasses, as well as, potentially, the blinding power of radiance reflected in a window.
Posted 07/08/2012 06:06 AM