While we keep our Poet's Tercentennial,
Every school and city with its emulous
Antic or solemnity, what tremulous
Laughter on the air! O Puck perennial!
Leave us clumsy mortals to our drolleries,
Strenuous gambols of Shakespearean gratitude,
And be off to find him in Beatitude,
Win his genial glance with elf cajoleries,
And then tell him of our sage frivolity
Till his golden laughter wake eternity,
And about him flock his old fraternity,
All his scapegrace fellows of the quality,
Greene not jealous, Heminge no more stammering,
Marlowe one white flame of passion glorious,
Rare Ben modest, vagabonds victorious,
All about the Master crowding, clamoring,
Talking all at once in odes and triolets,
Sonnets like the stars for prodigality,
While Will Shakespeare loafs with Immortality
On a stolen bank of Arden violets.

This poem is in the public domain.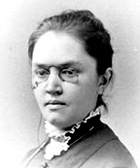 If Katharine Lee Bates' (1859 - 1929) name sounds familiar, it should be. Her poem, "America the Beautiful," was set to music and became the patriotic anthem we all know and love. Daughter of a Congregationalist minister who died when she was a month old, Katharine was an English professor at Wellesley College for many years, as well as a noted scholar, poet, and writer of books for both children and adults. Serious-looking and somewhat awkward in movement, she was nonetheless very popular with her students because of her wicked sense of humor. Many of Katharine?s photographs show her with her collie, Hamlet, who was a beloved companion.
KevinArnold:
love 'loafs with immortality'
Posted 07/09/2012 01:27 PM
Larry Schug:
wouldn't it be cool if someone remembered one of our poems about 80 years after we've died? Thanks for keeping Bates immortal.
Posted 07/09/2012 12:44 PM
marenomitchell:
Thank you for this delightful glimpse into Bates' talents.
Posted 07/09/2012 10:35 AM