Inside a small thicket, surrounded

by ripe wheat, a doe and fawn sleep.

Through afternoon heat, a combine,

a giant beast, rumbles steadily toward them . . .

The deer stay low, ears folded, eyes closed

against the whirlwind of noise, glinting steel.

Not until the sun and moon briefly share the sky,

do they rise and step cautiously

to the edge of the field, fading

with hay and fallen plums

from the abandoned orchard.

This poem first appeared in Trajectory with the title "Late July Harvest."

Used here with the author's permission.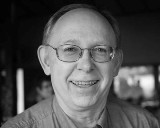 Mark Thalman lives in Forest Grove, Oregon, where he has taught 7th grade English for almost thirty years.  His poetry has been widely published in small presses, college reviews, anthologies, and e-zines for the last three decades. His book, Catching the Limit, was published by Bedbug Press - Fairweather Books as part of their Northwest Poetry Series. Mark has served as a Poet-in-the-Schools for the Oregon Arts Commission, Assistant Poetry Editor for the Northwest Review, and board member of the Portland Poetry Festival. He is also an artist who enjoys painting wildlife scenes with acrylics. His two Golden Retrievers, pictured above, are named Agatha Christie and Sherlock Holmes. To learn more about Mark, visit www.markthalman.com. To purchase Catching the Limit, click on the book cover and contact Mark via his email address.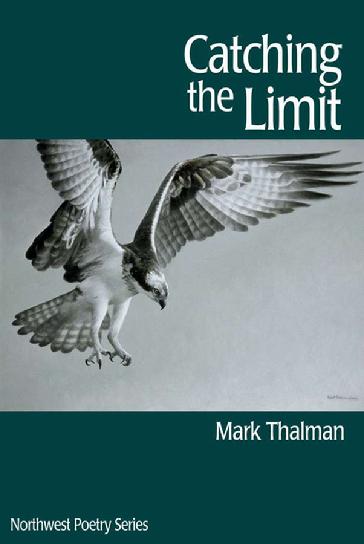 Julianne Carlile:
That's a very beautiful poem!
Posted 07/28/2012 06:58 AM
Larry Schug:
My kind of poem! It puts beautiful pictures in my head and tells a nice story. I love poems with "texture". This has it.
Posted 07/27/2012 10:13 AM
Jo:
Mark, Another beautiful poem. I agree with Carol--that time of day when the sun and moon share the sky--the perfect peace.
Posted 07/27/2012 10:10 AM
Ginny C.:
Lovely use of sound in this poem, as well as vivid imagery. A keeper!
Posted 07/27/2012 10:10 AM
Carol Hauer:
Just beautiful. Such a peaceful mood. I know just that time of day when the sun and moon share the sky. Nicely put.
Posted 07/27/2012 09:51 AM
KevinArnold:
Thalman's work is always so controlled, the intrusive beast not quite ruining the day.
Posted 07/27/2012 08:34 AM
Maryann Hurtt:
I can smell this poem...thank you.
Posted 07/27/2012 08:16 AM
dotief@comcast.net:
Beautiful!
Posted 07/27/2012 08:05 AM
Katrina:
I love the parallel of the animals sharing the field with a harvesting tractor and the planets sharing the sky.
Posted 07/27/2012 05:05 AM