What does the bee do?
Bring home honey.
And what does Father do?
Bring home money.
And what does Mother do?
Lay out the money.
And what does baby do?
Eat up the honey.

This poem is in the public domain.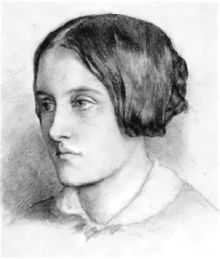 Christina Rossetti (1830 - 1894) was born in England to a family of great literary and artistic talent. A beauty who frequently modeled for her brother Dante and other respected artists of her day, Christina began writing as a child and published her first poem at eighteen. A kind-hearted woman who spent many years as a charity volunteer, Christina's devout faith was often a central theme in the three books of poetry and four books of devotions she wrote during her life. Though her poems show up consistently in contemporary films, television shows, and musical compositions, her most familiar work is "In the Bleak Midwinter," which, when set to music, became a beloved Christmas carol.
loisflmom:
A cute poem, but with a reminder-- babies should NOT have honey, a medical fact not known in Rosetti's day!
Posted 07/28/2012 09:41 AM
KevinArnold:
The simplicity of gender-roles keeps this poem alive as the roles become murkier.
Posted 07/28/2012 05:17 AM