The westie finds me in my tent

Where I am waiting for dawn

To catch up with me. Low sun

A background sky. Insistent birds

 

For the red tailed hawk to wake

And chase down the clouds.

 

Mornings like this the whole world

Is possible. Any minute could be

The best you've ever had.

 

a blue bird, iridescent and small,

has perched on a nearby limb.

 

Just now, my whole family

asleep within the house sighed

 

©

by Janice Lynch Schuster.

Used with the author's permission.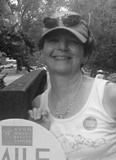 Janice Lynch Schuster lives near Annapolis, Maryland, where she is Senior Writer for Altarum Institute, a nonprofit health care research and consulting organization. Author of one poetry chapbook and two non-fiction books, her poetry has appeared in various print and online publications and her articles and op-ed pieces appear frequently in the Washington Post. Janice, a mother of six, says she finds "working out, mastering the body, inspires me to create poetry--mastering the language and the mind. I haven't mastered either yet," she admits, "but I keep trying."
Larry Schug:
I also find birds very inspiring. Saying so much with so little! That's poetry! Every minute is the biest minute; it's the only one we have.
Posted 08/05/2012 01:46 PM
peninsulapoet:
beautiful and smart.
Posted 08/05/2012 01:13 PM
Jo:
Thank you for this uplifting poem. Dotie already said what struck me too. Love the imagery also.
Posted 08/05/2012 10:11 AM
dotief@comcast.net:
"Any minute could be/ the best you ever had"--what a wonderful concept! Lovely images. Excellent poem!
Posted 08/05/2012 08:07 AM