Yes, it is
and unworthy.

male mandrill.

scandalous.

all at once.

And yes, I shall wear it.
For: The names are beautiful.
Men without are not better
Nature loves a color display.
Clowns and mimes are magic.

First published in I Am Becoming the Woman I Wanted. (Papier-Mache Press, l995).
Used with the author's permission.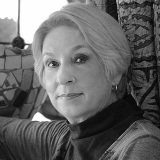 Jan Seale, the 2012 Texas Poet Laureate, lives seven miles from the Texas-Mexico border in the Lower Rio Grande Valley. She writes poetry, fiction, and nonfiction. Her poems are collected in nine volumes: Bonds, Sharing the House, Believing is Seeing, The Yin of It, Valley Ark, The Wonder Is, Nape, Jan Seale: New and Selected Poems, and The Parkinson Poems. Jan believes poetry puts the shine and finish world of feeling and spirit. Learn more about her at www.janseale.com.
erinsnana:
wonderful--especially the last line!
Posted 09/20/2014 12:10 PM
paradea:
Well said!
Posted 09/20/2014 09:24 AM
Cindy:
I don't wear it but this poem makes me appreciate it. Nice job.
Posted 09/20/2014 08:51 AM
rhonasheridan:
Great! I Am just about to apply a lovely shade of slightly sun-struck Revlon! I feel ten years younger when smothered in it. I love it. It makes me smile - aided a bit by a smear of exotic pink.....I shall meet the world head on - and at my age that is quite a stretch!
Posted 09/20/2014 03:14 AM
fuddygail:
Gail Pickus: This is wonderful! All of it...Yes, it is...especially the Mandril...
Posted 09/20/2014 12:49 AM
KevinArnold:
What fun, esp the last line.
Posted 09/19/2014 11:28 PM