Tang of fruitage in the air;
Red boughs bursting everywhere;
Shimmering of seeded grass;
Hooded gentians all a'mass.
Warmth of earth, and cloudless wind
Tearing off the husky rind,
Blowing feathered seeds to fall
By the sun-baked, sheltering wall.
Beech trees in a golden haze;
Hardy sumachs all ablaze,
Glowing through the silver birches.
How that pine tree shouts and lurches!
From the sunny door-jamb high,
Swings the shell of a butterfly.
Scrape of insect violins
Through the stubble shrilly dins.
Every blade's a minaret
Where a small muezzin's set,
Loudly calling us to pray
At the miracle of day.
Then the purple-lidded night
Westering comes, her footsteps light
Guided by the radiant boon
Of a sickle-shaped new moon.


This poem is in the public domain.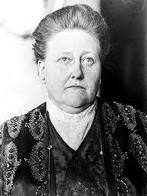 Amy Lowell (1874 - 1925) was born in Brookline, Massachusetts, to a family of significant wealth and social standing. In keeping with the standards of the time, she received little formal education and was, in fact, a notoriously poor speller, but she was an avid and discriminating collector of books, traveled extensively, and educated herself in many areas. Amy began writing and publishing when she was in her mid-twenties and, at one point, was publishing a book a year. A large, imposing woman fond of smoking cigars, Amy was a good promoter and a vocal advocate of poetry; that plus her reputation for eccentricity brought sell-out crowds to her readings and lectures.
anne.lehman2929@att.net:
"Then the purple-lidded night/ Westering comes," lovely--
Posted 09/21/2014 11:52 AM