My grandmother tells me
About her first love
Johnny Hansen was his name
She'll always remember
A warm autumn day
She was fifteen
Or almost fifteen
Had a mare named Patches
And she and Johnny went riding together
Down along the Chetco River
Low and mossy before the rains.
She can still taste the fried chicken
She made for their picnic
And how worried she was
Her lips would be all greasy
If he wanted to kiss her.

Tells me this as she polishes
The mahogany china closet
Over and over
Five minutes
The same spot
Till it shines.
From Rain on the River: Selected Poems and Short Prose (1970 - 2000) (Grove/Atlantic Press, 2002, [USA] & Canongate Books, 2002, [UK]).
Used here with the author's permission.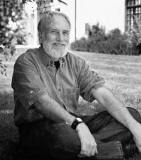 Jim Dodge is Professor Emeritus of Humboldt State University's Writing Practices Program, where he still teaches half-time. After 40 years of living deep in the Coast Range of northern California, first on the headwaters of the Gualala River and later in the Smith River watershed, he recently moved into town with his wife, Victoria, and their herd of dogs.  A few years ago, Jim represented the U.S. at the International Literary Festival in Paraty, Brazil. Although he enjoys international recognition for his work (his novels have been translated into 22 languages), he steadfastly resists the trappings—and traps—of notoriety, claiming, ?I only want to be famous for five miles."  In addition to teaching and writing, Jim has worked variously as an apple picker, carpet layer, shepherd, professional poker player, woodcutter, bookstore clerk, co-founder of an environmental consulting business, and member of a forest workers? cooperative where he planted trees, built structures for erosion control, removed logjams from small streams, ran habitat surveys, and generally applied himself to whatever grunt labor was at hand.
apersephone:
Very enjoyable. I can even smell the polish!
Posted 10/07/2012 01:46 PM
Stacy Maddox:
What a touching and sweet poem!
Posted 10/04/2012 11:21 AM
CamilleBalla:
What an effective way to express her memory of that day - shining the mahogany china closet over and over until it shines. So lovely, so very poetic.
Posted 09/29/2012 09:18 AM
Larry Schug:
It would be fun to read what Johnny Hansen has to say about that day! Sentiment without sentimentality--good work.
Posted 09/28/2012 02:58 PM
Wilda Morris:
A second thought - what a clever title!
Posted 09/28/2012 08:28 AM
tannerlynne:
Yes! both the memory and the dreamy polishing of the china chest as she remembers... what a lovely poem.
Posted 09/28/2012 08:16 AM
Wilda Morris:
Ah, young love. This is a beautiful poem.
Posted 09/28/2012 08:14 AM
69Dorcas:
Yes, it brings to mind those body moments.
Posted 09/28/2012 07:49 AM
mimi:
a tender and beautiful way to start my day--with your poem and a memory of my own grandma...thank you
Posted 09/28/2012 07:03 AM
jeanie:
love this! there are moments that remain in a body forever.
Posted 09/28/2012 06:29 AM