I'm not sure why I saved it,
knitted by my mother
for my new baby
who turned out to be you.
It is worn and has stains
which I have tried
to wash out,
to get it ready
for your new baby,
I'm sure that you have new
blankets, clean and
soft and delicate—
blankets piled high
standing ready
for more original stains.
You will not remember
the mush you spit up on this
stained blanket that
I am sitting here and cradling.
I, who remember little,
know that these stains
are mashed bananas.
Very soon you will be
able to help me see
why I kept this stained blanket
why I am teary
packing it to bring to you.
© by Anita Pulier.
Used with the author's permission.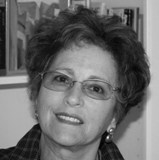 Anita S. Pulier is a graduate of New York University and New York Law School. After many years of practicing law in New York and New Jersey, she has served for the past several years as a U.S. representative for the Women's International League for Peace and Freedom at the United Nations. Anita's poems have been published both online and in print; her chapbook, Perfect Diet, was released last year from Finishing Line Press. Anita divides her time between New York City and Los Angeles.
Eiken:
I too have the saved blankets. love this!!
Posted 10/15/2012 05:43 AM
marshadisher:
I'm right there with you with several saved blankets and other things. Seeing a grandchild use something you've saved is priceless.
Posted 10/09/2012 03:48 PM
CamilleBalla:
Wow, I didn't think this would take me to "teary" too. You have written this so very well.
Posted 10/09/2012 07:05 AM