With a smooth finish and a deep blue glaze,
the milk pitcher has the word "Doolin" carved onto the bottom edge
and cost just five euros.
It is a memento of my first trip to Ireland,
shamrocks, rainbows, and a good cup of hot tea.
And think of my trip each time I pour the milk.
I bought the piece from a roadside shop
that was vacant but for the pottery,
and the tin can in which to leave payment.

©
by Susan Mahan.
Used with the author's permission.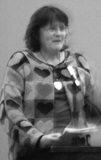 Susan Mahan has been writing poetry since her husband died in 1997. A frequent reader at poetry venues, and the author of four chapbooks, she joined the editorial staff of The South Boston Literary Gazette in 2002. Susan lives in East Weymouth, Massachusetts.
apersephone:
Irresistable!
Posted 10/11/2012 02:30 AM
erinsnana:
thank you all for your nice comments!
Posted 10/10/2012 04:43 PM
Alarie:
Like the pottery mug, like the almost empty shop, Mahan gives us her memory in just a few simple words. We can see and feel her experience, and those of us who love tea can taste it, too.
Posted 10/10/2012 11:10 AM
transitions:
a lovely story poem which made me feel that I was "there" too. Enjoyed ~ Judy
Posted 10/10/2012 11:09 AM
jamster:
Beautiful imagery. I love these types of poems that say so much with so few words. It allows each individual word to provoke powerful images. An excellent poem!
Posted 10/10/2012 12:05 AM