Her trunk grips the brush, dips it
again and again into black ink---
sumie on the canvas of her mind.
Look, the curve of her back is rising,
its segments arcing across the white
rectangle tacked to a rough easel.
Now the swag of her belly emerges,
and we are swept into the rhythm of
a trunk tracing the air between canvas
and ink, her brush quivering with
concentration, reverent in her intent
to arrive at the exact intersections of
haunch and legs, until all four stand
in right relation. Next, the curled
question-marks of tail and trunk appear,
and now a sudden shift to scarlet ink,
a different brush, and a flower opens
on the end of the black stem rising
from her elegant trunk, a flower she
is giving to herself, brilliant in the
garden of her dry and dusty keep.
©
by Penny Harter.
Used with the author's permission.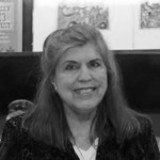 Penny Harter is a poet and teacher whose work appears in many print and online journals and anthologies. She has received fellowships from the NJ State Council on the Arts, the Poetry Society of America, and the Virginia Center for the Creative Arts. She also received the William O. Douglas Nature Writing Award, and was invited to read at the 2010 Geraldine R. Dodge Poetry Festival. After her husband's death in 2008, Penny moved to the South Jersey shore area to be near her daughter and family. She has many collections of poetry in print; her most recent books are a children's alphabestiary, The Beastie Book, and Recycling Starlight, a chapbook of poems reflecting her grief during the eighteen months following her husband's death. With her late husband, William J. Higginson, Penny co-authored The Haiku Handbook. Her prizewinning collection of haibun (poetic prose pieces with haiku integrated into them), One Bowl, will be published online this summer by Snapshot Press (England). Learn more about Penny here.
transitions:
been trying to leave a comment for days but couldn't get through..also couldn't forget this. So, I love elephants and this poem! They are a living art form; it's a tribute to their majesty and the last line lingers... Judy
Posted 11/01/2012 10:25 AM
penhart:
Thanks, Linda. Glad you liked it.
Posted 10/23/2012 05:50 AM
LindaCrosfield:
Great last line--"...her dry and dusty keep". Good one.
Posted 10/23/2012 01:17 AM
penhart:
Thanks, Stacy! Watching it happen obviously convinced me, and moved me to write the poem.
Posted 10/22/2012 10:20 AM
Stacy Maddox:
I saw this happen on youtube. I was skeptical until I actually watched it happen. I love the last paragraph of the poem! Well done - Thank you for sharing.
Posted 10/22/2012 08:57 AM
penhart:
Dotie, I know that elephants are very smart AND have feelings. Glad you enjoyed the poem.
Posted 10/22/2012 08:19 AM
penhart:
Phebe, bless you for your kind words. Thanks! I'm a fan of your fine work, too.
Posted 10/22/2012 08:18 AM
dotief@comcast.net:
I love elephants and I feel that they are far more knowing than we humans care to believe. This poem reinforces my feelings on the subject of elephant intellect, and I really enjoyed this piece!
Posted 10/22/2012 08:18 AM
phebe.davidson@gmail.com:
I'm a long time fan of Penny Harter's work--and this poem just goes to show why. What can I say but Brava! Brava!
Posted 10/22/2012 07:43 AM
penhart:
Thanks so much! Penny
Posted 10/22/2012 07:38 AM
laurasalas:
This is beautiful--those last two stanzas, especially!
Posted 10/22/2012 06:56 AM