Glory be to God for silly things --
For running-dives all in a pile of musky autumn leaves;
For roller coaster rides in the first car alone;
Wet late-March snowball fights; frisbee flings;
Junk food caloric and sweet -- pizza, french fries, sundaes;
And all jokers, their plots and puns and funny bones.
†
All things humorous, playful, joking, tickly;
Whatever is unplanned, spontaneous (who knows why?)
With smile, grin; laugh, shout; giggle, groan;
They maintain sanity whose beauty is past lunacy:
†
†
©
by Mary Lee Hahn.
Used with the authorís permission.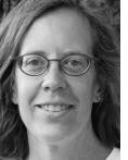 Mary Lee Hahn lives in Columbus, Ohio, and has taught either fourth- or fifth-graders for nearly 30 years. She is the author of Reconsidering Read-Aloud (Stenhouse, 2002) and nearly a dozen articles for the Choice Literacy website.
nlmarsh:
and, somebody wrote another lampoon, starting: "Glory be to God for bottled things ............". anybody know it?
Posted 04/17/2013 09:33 PM
erinsnana:
Love this poem, though it reminds me that I have not taken enough risks. That may very well change in the second half of my life...
Posted 10/23/2012 05:02 PM
stocktonryan:
I really like these "spoof" poems- especially when they are well done. It not only introduces me to the author and their poetry, but to the original works as well. Well done, Mary Lee.
Posted 10/23/2012 08:47 AM
laurasalas:
So true, Mary Lee! Love this--the junk food and roller coaster rides, especially:>)
Posted 10/23/2012 05:59 AM