a very serious sixth grade girl

asked me if I was wealthy

well I said I have twenty-two

dollars in my wallet right now

my purple truck has two hundred

and thirty-five thousand miles on it

I'm wearing clean and mended clothes

I'll sleep in a warm bed tonight

I've got my health my hands my eyes

my family and friends who love me

and I can come here to sennett middle school

to read poetry to you guys for free

 

From Unexpected Shiny Things (Cowfeather Press, 2011).

Used with the author's permission.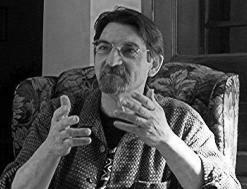 Born in Kansas City, Missouri, Bruce Dethlefsen has worked delivering telegrams, at a flour mill, as a night watchman in a cave, a surgical orderly, a bass player and singer in a rock group, an emergency ward technician, an English teacher, a school administrator, and public library director. As Wisconsin's Poet Laureate for the past two years, Bruce has traveled his state promoting poetry through various events and initiatives. He lives in Westfield. Learn more about him at http://brucedethlefsen.com/.
ghctenmile@earthlink.net:
Thanks for this, Bruce. ghc
Posted 11/23/2012 10:48 PM
erinsnana:
I love this sweet poem!
Posted 11/23/2012 09:40 PM
tannerlynne:
wealthy indeed!
Posted 11/21/2012 07:51 AM
jamster:
wonderful poem especially for these trying times. appreciate what you have. look around as your cup runeth over :)
Posted 11/20/2012 04:30 PM
jeanie:
i wish all of you who haven't heard bruce READ this poem, could hear him! though, after his myriad travels here and yon, maybe he's got us all covered!
Posted 11/20/2012 03:37 PM
Jo:
I second all the comments before me and add my own Thank you.
Posted 11/20/2012 01:49 PM
TheSilverOne:
True Wealth! Beautiful.
Posted 11/20/2012 01:17 PM
transitions:
There is no wealth greater than that... beautifully expressed. Thank you, Judy
Posted 11/20/2012 11:41 AM
judithc:
The cup runneth over. Beautiful.
Posted 11/20/2012 10:54 AM
Larry Schug:
We're all as rich as the one per cent; we just won't admit it. Thanks for a fine poetic reminder.
Posted 11/20/2012 10:51 AM
CamilleBalla:
Thanks for the boost, Bruce. Yes, that is a blessing we can count.
Posted 11/20/2012 10:00 AM
KevinArnold:
I find this a 'tug on the sleeve' to get involved with the poets in the schools. Thanks.
Posted 11/20/2012 09:15 AM
Marilyn L Taylor:
Thus poem speaks to all of us, Bruce. And it's absolutely perfect for Thanksgiving, isn't it?
Posted 11/20/2012 08:43 AM
mimi:
beautiful, Bruce, and Happy Big Bird Day! ~Sharon
Posted 11/20/2012 08:14 AM
Gary Busha:
An extended definition of wealth. Wealth, by examples.
Posted 11/20/2012 08:09 AM
dotief@comcast.net:
Love it!
Posted 11/20/2012 07:46 AM
jeeger:
I second what Janet said!
Posted 11/20/2012 07:25 AM
ed werstein:
Excellent poem. Thanks, Bruce. Ed
Posted 11/20/2012 06:57 AM
rksanders@charter.net:
"wealthy indeed"--yes. Thanks for reminding us, Bruce.
Posted 11/20/2012 06:44 AM
phebe.davidson@gmail.com:
I am tempted to shout "Hear! Hear!"
Posted 11/20/2012 06:30 AM
Janet Leahy:
And we are all wealthy having Bruce as poet laureate of Wisconsin, thanks Bruce this poem is one of my favorites.
Posted 11/20/2012 06:18 AM
LisaV:
Love this poem.
Posted 11/20/2012 06:09 AM