The golden bronze death of red oaks

of illumination        Country hymns

                                             Carry Me Down By The River

                                                                              Whispering Hope in my ear

open onto field upon field of cornstalks

        marsh grass       weathered red barns       stone silos

A flock of starlings block out the sun

 

Vista after vista changes before us

        trees                     russet and burgundy

sumac                   color of dried blood

evergreens         so blue they are black

 

Snow's slate gray sky wavers over morning

Green Bay waters     leap

Limestone bluffs stand still

 

As day darkens toward night

appear along the roadside of our minds

 

      parents                  grandparents

 

We carry them forward even as they vanish

        into the blur of distance

 

 

From Gathering the Harvest (Bellowing Ark Press, 2012).
This poem first appeared in One Vision (2011) and Quill and Parchment (2011).

Used here with the author's permission.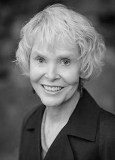 Mary Jo Balistreri is the author of Joy in the Morning, published by Bellowing Ark Press, and the chapbook, Best Brothers, published by Tiger's Eye Press. She is one of the founding members of Grace River Poets, an outreach program of poetry for women's shelters, churches, and schools. Mary Jo's poems have appeared or are forthcoming in MOBIUS, The Healing Muse, Passager, Tiger's Eye, Ruminate, Verse Wisconsin, Quill and Parchment, Crab Creek Review, and others. She recently placed first for essay in the Wisconsin Writers Jade Ring Contest, and is the recipient of a Pushcart Nomination in poetry.
Sharmagne:
Ah yes, we loved this poem when we first published it at Quill and Parchment. Congrats on your most recent Pushcart Prize nomination! Keep those wonderful poems coming!
Posted 12/11/2012 02:32 AM
Donna Pflueger:
Jo, your poem entered my heart and I will keep it there as I carry these images with me on my journey. Thank you.
Posted 11/22/2012 08:35 AM
Elizabeth :
The beauty of nature as you drive to Door county -so often we do not take the time to appreciate the little things in life. And everyday life takes us through the joy as well as the grief. What a journey you are on Jo. Thank you for sharing your wonderful poetry with us!
Posted 11/21/2012 07:54 PM
citizentrain:
I feel these images and sounds quietly going to work on me even as I am doing other things.
Posted 11/21/2012 03:54 PM
becky evans:
An exquisite, poignant poem of thanksgiving as well as grief and loss, from Mary Jo's beautiful new book. The harvest we gather moves us forward along with the memory of those we have dearly loved and lost. Inspiring! Thank you! -- Becky
Posted 11/21/2012 01:52 PM
transitions:
the grief, beautifully expressed, breaks your heart...but then the hope, at the end, heals it. Thank you again, Jo, for your timeless vision...namaste, Judy
Posted 11/21/2012 01:01 PM
Anjie:
One of my favorites of yours, Jo! This poem is timeless!
Posted 11/21/2012 12:32 PM
Gail Goepfert:
So beautiful, Jo. I love its flight on the page.
Posted 11/21/2012 11:11 AM
gailcomorat:
The white space in this poem goes even beyond the words. Lovely, just lovely, Jo!
Posted 11/21/2012 10:07 AM
Marilyn L Taylor:
Lovely. All I can say is thank you for writing this, Jo.
Posted 11/21/2012 09:27 AM
vscholtz:
This beautiful and bitter-sweet poem shows Mary Jo's true artistry. The experience of a new level of grief when memories begin to fade is so well-stated. "We carry them forward even as they vanish into the blur of distance"
Posted 11/21/2012 09:19 AM
peninsulapoet:
Heartbreaking and beautiful. What more can one ask from a poem? Donna Hilbert
Posted 11/21/2012 08:53 AM
Janet Leahy:
This poem stirs memories of the people who have left our holiday tables. A poignant journey through nature and memory, the closing poem in Mary Jo's beautiful new book.
Posted 11/21/2012 08:12 AM
Wilda Morris:
A beautiful poem. I love the descriptions. The "two small boys" broke my heart - they brought me back to the drowning death of two young brothers I had cared for in the church nursery. You packed a lot into this poem, Mary Jo.
Posted 11/21/2012 07:48 AM
tannerlynne:
and I heard the grief! thank you for this poem.
Posted 11/21/2012 07:41 AM
tiddles:
Words of color, words of longing used to so beautifully describe places before us and places within us. Thank you, Mary Jo. Marilyn Zelke-Windau
Posted 11/21/2012 06:51 AM
TheSilverOne:
How beautiful this Autumn morning! Sparks the imagination.~~Doris
Posted 11/21/2012 06:10 AM