Although I ask for chicken
choked with noodles as flaccid
as eels, a pot of split pea simmers
on the stove. And though I prefer
sneakers worn with puddle splashes
and autumn beach sand, polished
dress shoes loiter near the hope chest ó
each stuffed with new hosiery: argyle
and cashmere. And when I reach
from the roomís dark corner,
trace my finger across the flesh
of your left thigh, you ask me
to grace your right. And I do.
†
© 2009 by S. Thomas Summers
Used with the authorís permission.
†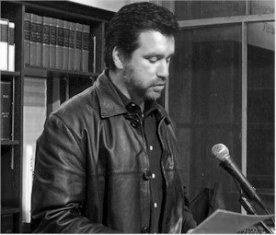 S. Thomas Summers is a literature and writing instructor in New Jersey. Author of two books, he also conducts workshops for both students and teachers, using contemporary poetry as a catalyst to spark interest in unmotivated students. He writes because he believes poetry develops a keener appreciation of breath and, as of today, his lungs are clear and healthy. Learn more about Scott at inkhammer.wordpress.com.
jtmilford:
Sometimes we don't get what we want only better left right middle all good.
Posted 10/01/2014 06:39 PM
anne.lehman2929@att.net:
Oh, what a sensuous surprise!
Posted 09/26/2014 03:50 PM
Jo:
My husband loves this poem. I do too.
Posted 09/26/2014 01:14 PM
Michael Eddie Anderson:
This is about soup. This is about sneakers. This is not about soup or sneakers. The next time my wife brings home for me a new shirt she believes will improve my look--I will quote this poem and smile and head for the bedroom.
Posted 09/26/2014 11:09 AM
peninsulapoet:
Fine poem.
Posted 09/26/2014 10:11 AM
Cindy:
giving to the one he loves - nice
Posted 09/26/2014 09:36 AM
Sherry:
As far as relationships go, the final three words say it all.
Posted 09/26/2014 09:19 AM
erinsnana:
I love the journey from the kitchen to the bedroom...very sweet! Sometimes, you do get what you want.
Posted 09/26/2014 08:33 AM
paradea:
Sounds like definitely being "in the soup". This resonated big-time.
Posted 09/26/2014 07:20 AM
poetronics:
Very fine work. I know this poet from an on-line workshop. Always excellent and I see he is even better with time.
Posted 09/25/2014 11:55 PM