when somebody calls after ten p.m.
and you live in wisconsin
and youíre snug in your bed
then allís I can tell you
somebody better be missing
somebody better had a baby
or somebody better be dead
From Breather (Fireweed Press 2009)
Used with the authorís permission.
†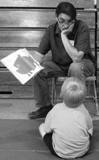 Bruce Dethlefsen is the author of Small Talk (Little Eagle Press, 2014), Unexpected Shiny Things
(Cowfeather Press, 2011), and Breather (Fireweed Press, 2009), and was Wisconsinís Poet Laureate from 2011-2012. He sings and plays harmonica and bass guitar in a blues band, The Big Talkers, and runs Poet Camp twice a year. Bruce, who has taught more than a thousand people how to juggle, lives in Westfield, Wisconsin. Learn more about him at
www.brucedethlefsen.com
.
†
barbsteff:
This is one of my favorite of Bruce's poems
Posted 09/28/2014 11:43 PM
Dorcas:
Right on!
Posted 09/27/2014 09:51 PM
Janet Leahy:
So often the messages that come in the dark hours are the messages we dread. The poem says it so well. Love the picture! Thanks Bruce
Posted 09/27/2014 07:11 PM
rhonasheridan:
It even happens in peaceful little Devon!
Posted 09/27/2014 10:06 AM
Cindy:
Illinois also
Posted 09/27/2014 09:20 AM
pwax:
So true, Bruce, and not only Wisconsin.
Posted 09/27/2014 08:14 AM
tiddles:
I can still see my mother trembling when this happened. Very early morning calls brought the same fear. Your poem is fun, helps to sooth those memories. Thanks, Bruce. Marilyn Windau
Posted 09/27/2014 07:24 AM
rksanders@charter.net:
I love the humor of this.
Posted 09/27/2014 07:05 AM
Gary Busha:
Yes! Sharp. Right on.
Posted 09/27/2014 06:54 AM
mimi:
definitely!
Posted 09/27/2014 06:34 AM
TheSilverOne:
Yes, that's Wisconsin...in fact, it used to be nine p.m. fifty years ago.
Posted 09/26/2014 11:35 PM
KevinArnold:
Clever poem.
Posted 09/26/2014 11:30 PM