I like it out here
in the woods
all day, alone,
with just my
equipment
and these trees.

And, God knows,
making firewood
sure beats
making money.
From Happy Life (Copper Canyon Press, 2011) .
Used here with the author's permission.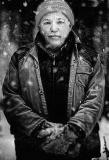 David Budbill lives in Vermont where he writes, among other things, poetry and plays. His work appears frequently on NPR and his latest play, A Song for My Father, received its third production at The Western Stage in Salinas, California, last year. His newest play, Different Planet, will receive its first public reading in August in Vermont. Currently, David is writing a series of poems based on Yosa Buson's haiku. His book, Tumbling Toward the End, is forthcoming from Copper Canyon Press. Learn more about him at www.davidbudbill.com.
Dorcas:
I agree.
Posted 10/10/2014 10:38 AM
KevinArnold:
Ah, brevity!
Posted 09/28/2014 11:03 AM