The crush rolled over her
like a truck
that's right, like her daddy's
red Ford pickup
all four tires
one after the other
till she felt completely
flattened

smushed by love.

The object of her affection?

Mr. Jasper
science teacher extraordinaire.

Maybe it was the way he pulled
his brown hair back in a ponytail
or the crazy ties he wore
or the way he hummed while
they dissected earthworms.

Maybe it was because
he told her she asked intelligent questions
something no one had ever said before.

Maybe, maybe. . .      maybe.
So here she was,
crushed as could be
tread marks all up and down her body
and she wondered . .
would it be an intelligent question
to ask him how
to dissect the human heart?
From Poems from Homeroom: A Writer's Place to Start (Henry Holt, 2002)
Used with the author's permission.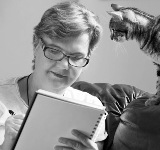 Kathi Appelt was born in North Carolina but grew up in Texas. A National Book Award finalist and Newbery honoree, Kathi is the author of more than thirty books for children and young adults. She has two grown children and lives in Texas with her husband. Learn more about Kathi at www.KathiAppelt.com.
rhonasheridan:
This has great charm
Posted 10/13/2014 12:58 AM
Eiken:
Oh lovely ending :)
Posted 09/30/2014 03:39 AM
msruff@juno.com:
Great imagery.
Posted 09/29/2014 10:32 AM
dotief@comcast.net:
This is so sweet and so true! As a teacher, I can attest to those poor girls whose unrequited crushes flatten them like a pick up truck--all four tires.
Posted 09/29/2014 08:55 AM
erinsnana:
I had a crush on my 6th grade teacher, and it felt just like this!
Posted 09/29/2014 08:55 AM
Cindy:
I really like this poem.
Posted 09/29/2014 08:49 AM
tannerlynne:
I love this poem!
Posted 09/29/2014 08:49 AM
Sherry:
Good job, Kathi!
Posted 09/29/2014 08:29 AM
Buckner14:
Marvelous in each detail!
Posted 09/29/2014 07:48 AM
ldkulp:
I love this poem, and the collection, Poems from Homeroom, all of the poems are just as wonderful as this one.
Posted 09/29/2014 06:53 AM