Some one came knocking
     At my wee, small door;
Some one came knocking,
     I'm sure - sure - sure;
I listened, I opened,
     I looked to left and right,
But nought there was a-stirring
     In the still dark night;
Only the busy beetle
     Tap-tapping in the wall,
Only from the forest
     The screech-owl's call,
Only the cricket whistling
     While the dewdrops fall,
So I know not who came knocking,
     At all, at all, at all.
This poem is in the public domain.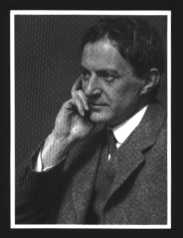 Walter de la Mare (1873 - 1956) was a British author of diverse talent who wrote everything from horror stories to children's books. Known to family and friends as "Jack," his work tended to focus around the themes of childhood, imagination, and the supernatural. Happily married to a woman ten years his senior, with whom he had four children, Walter spent nearly twenty years working as a bookkeeper before a government pension finally allowed him to fully devote his time to writing. For more information, visit The Walter de la Mare Society website.
KarenPQ:
This poem is included in the book Silver Pennies. I have a copy from childhood, battered and yellowed, but it remains my all time favorite collection of poetry. The instant I began reading Mr. de la Mare's poem I was transported back to a magical, wonderful time of life. Thank you.
Posted 12/03/2012 07:20 AM
tannerlynne:
I too memorized this poem, and reading it brought me back to my chilhood bedroom....over half a centry ago! And to think... I was alive when Walter de la Mare was....I didn't realize that until right now.
Posted 12/02/2012 09:50 AM
loisflmom:
Memorizing poems was part of the elementary school "curriculum" sixty years ago. Too bad today's children don't experience the pride in reciting their latest to parents and grandparents!!
Posted 12/01/2012 01:15 PM
KevinArnold:
What a treat; also well-crafted bio. And I'm so jealous of Linda having a father that read such poems to her.
Posted 12/01/2012 12:02 PM
LindaCrosfield:
A very early favourite of mine. I can hear my dad's voice reciting it! Thanks for this one.
Posted 12/01/2012 09:24 AM
dotief@comcast.net:
I love these old poems. I can just see the illustrations that might accompany this little verse. Charming.
Posted 12/01/2012 07:24 AM