Softer than silence, stiller than still air
Float down from high pine-boughs the slender leaves.
The forest floor its annual boon receives
That comes like snowfall, tireless, tranquil, fair.
Gently they glide, gently they clothe the bare
Old rocks with grace. Their fall a mantle weaves
Of paler yellow than autumnal sheaves
Or those strange blossoms the witch-hazels wear.
Athwart long aisles the sunbeams pierce their way;
High up, the crows are gathering for the night;
The delicate needles fill the air; the jay
Takes through their golden mist his radiant flight;
They fall and fall, till at November's close
The snow-flakes drop as lightly—snows on snows.
This poem is in the public domain.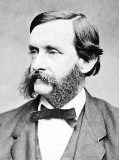 Thomas Wentworth Higginson (1823-1911) was an author, poet, editor, minister, and social reformer. Born in Massachusetts to a socially prominent family, he had four poems published by the time he was sixteen and went on to publish fiction, nonfiction, articles, essays, and more poetry. Thomas served as a colonel in the Civil War, commanding the first Union regiment of freed African American soldiers. A lifelong radical, much of his writing was in support of women's suffrage, the temperance movement, and the abolition of slavery. Higginson is better known for his association with Emily Dickinson. After receiving a letter from her in response to an article he wrote for the Atlantic Monthly, he became her friend and mentor for the remainder of her life and edited her poems for publication after her death.
Larry Schug:
I appreciate that Your Daily Poem includes this "old" poetry. I'd guess this poem was influenced by the Romantics, whom I love. I think the modern environmental movement was born with these people. I wish they were still read by more people today.
Posted 11/30/2012 07:55 AM
Donna Pflueger:
Oh Jayne! ...gently they clothe the bare old rocks with grace. Their fall a mantle weaves... what a soothing, gentle cadence. It is like a blessing. I really love this poem. Thanks for the discovery!
Posted 11/30/2012 06:40 AM