Don't want to make waves or split hairs,
If Mayans predicted the end of our world,
Why hadn't they predicted theirs?



© by Dawn DeBraal.
Used with the author's permission.
This poem won first place in Your Daily Poem's Mayan Apocalypse Poetry Contest.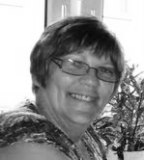 Dawn DeBraal was raised in rural Wisconsin, which she says allowed her many creative outlets. Starting with a song she wrote at the age of thirteen, a syndicated television jingle she created at nineteen, and another song that was accepted for inclusion in a Habitat for Humanity songbook, Dawn viewed poetry as a "second language" early in her life. She currently sings with, and writes for, Grace Roots, a Christian praise group.
lisa honecker:
Gets right to the point. Good job Dawn
Posted 12/22/2012 08:04 PM
MaryLeeHahn:
HA!
Posted 12/22/2012 05:35 PM
angierdh:
Made me laugh out loud!
Posted 12/22/2012 11:16 AM
Carol Hauer:
Very good!
Posted 12/22/2012 07:31 AM
erinsnana:
Excellent observation!!
Posted 12/22/2012 07:14 AM