Mortal
"The night is cold, the hour is late, the world is bleak and drear;
Who is it knocking at my door?"

The New Year
"I am Good Cheer."

Mortal
"Your voice is strange; I know you not; in shadows dark I grope.
What seek you here?"

The New Year
"Friend, let me in; my name is Hope."

Mortal
"And mine is Failure; you but mock the life you seek to bless. Pass on."

The New Year
"Nay, open wide the door; I am Success."

Mortal
"But I am ill and spent with pain; too late has come your wealth. I cannot use it."

The New Year
"Listen, friend; I am Good Health."

Mortal
"Now, wide I fling my door. Come in, and your fair statements prove."

The New Year
"But you must open, too, your heart, for I am Love."

This poem is in the public domain.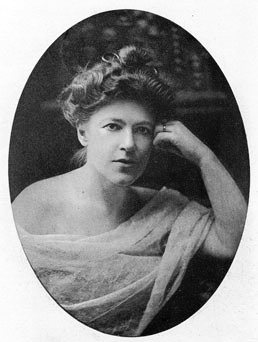 Ella Wheeler Wilcox (1850-1919) was a popular and prolific poet. Published and lauded before she even graduated from high school, Ella preferred to write happy, upbeat poetry and was much beloved for it. More than a dozen of her poems are included in the book, Best Loved Poems of the American People (Doubleday, 2008). The familiar saying, "Laugh and the world laughs with you, weep, and you weep alone. . ." comes from her best-known poem, "Solitude." A morally strong and spiritual person, Ella believed that her purpose on earth was to practice kindness and service. Read more about her here.
dotief@comcast.net:
Very powerful! It is so appropriate! Thanks.
Posted 12/30/2012 09:57 AM