I carry the windsplit branches
of hemlock, balsam, fir;
their filigree of lichen, pitch.
Add blackberry vines and
the heirloom rose that no longer blooms.

Later, I bring paper sunflowers,
full of dust and secrets, old
foolish journals, outdated receipts.

It's not the memories that will burn here;
but last year's grief,
all smoke, then ash.
© by Wendy Morton.
Used with the author's permission.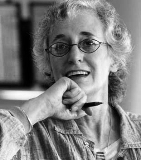 Wendy Morton believes that poetry is the shortest distance between hearts. She has five books of poetry, a memoir, Six Impossible Things Before Breakfast, in which her adventures as a corporate sponsored poet are revealed, and a set of poetry postcards, in which the above poem is included. (To purchase, click here.) She is the founder of Canada's Random Acts of Poetry project, and was the recipient of the 2010 Spirit Bear Award and the Golden Beret Award. Wendy lives in Sooke, British Columbia, where she has spent 30 years as an insurance investigator. Learn more about her here.
dmahoney:
Thank you, Wendy! This is a good reminder to stick to my New Year's resolution to purge and get rid of things that no longer matter: the outdated receipts, the foolish journals, those roses that no longer bloom. Looking forward to more of your delicious poems in 2013.
Posted 01/02/2013 08:21 AM
David Fraser:
Now how did that comma sneak in there?
Posted 12/31/2012 10:31 PM
David Fraser:
Thanks Wendy for sharing this timely poe,m
Posted 12/31/2012 10:30 PM
sstenson:
Thanks Daily Poem and Wendy. I have been in Wendy's garden and I love it. Beautiful poem.
Posted 12/31/2012 08:59 PM
Jo:
A perfect poem to end the year. Letting go of grief. Amen to that. And the regeneration as Gisela says from ash. Here's to 2013.
Posted 12/31/2012 04:23 PM
beachstone:
A beautiful and soul touching poem; I LOVE the line "last year's grief" Thank you Wendy and Happy New Year to you and yours
Posted 12/31/2012 03:22 PM
gisela2:
Yes indeed the sorrow of letting go and the regeneration from ash. thanks for this poignant end of year song.
Posted 12/31/2012 03:07 PM
Tyler Gabrysh:
Such cathartic and evocative lines along with the sublime cadences!
Posted 12/31/2012 12:41 PM
marenomitchell:
Lines so full of life!
Posted 12/31/2012 12:07 PM
judithc:
What a poignant, heartbreaking gathering--the way of human grief which, as time passes, must'burn here' along with the 'heirloom rose that no longer blooms' and whatever else seems weary in the yard, in our lives. A brilliant meditation on endings and new beginnings.
Posted 12/31/2012 11:56 AM
Reganz:
My fire will have to be virtual, but this poem will linger all day today as I imagine setting a match to this year's grief. Thank you Wendy for your vivid words.
Posted 12/31/2012 10:34 AM
trailpny:
"I carry the windsplit branches" -- what a first line. And what a wonderful poem! I'll read this one again and again.
Posted 12/31/2012 10:26 AM
peninsulapoet:
Just the poem I needed to read this morning.
Posted 12/31/2012 09:53 AM
Walcottjm:
I wish I had a place to make a fire as the paper shredder doesn't have the same effect. Wendy's images, as always, are so sharp; I can smell the smoke. Thanks.
Posted 12/31/2012 08:28 AM
dotief@comcast.net:
Nice! I think I'll give a cleansing fire a try!
Posted 12/31/2012 07:29 AM
Charly:
This is a perfect poem for the end of an old year. Always like the poems Wendy Morton puts forth on YDP
Posted 12/31/2012 07:16 AM
TheSilverOne:
How deeply those few words touch my heart! Beautiful.
Posted 12/31/2012 06:36 AM
mimi:
a poignant, lovely poem to end the year with, thanks Wendy, and Happy New Year!
Posted 12/31/2012 06:30 AM