Child, how happy you are sitting in the dust, playing with a broken twig all the morning.

I smile at your play with that little bit of a broken twig.

I am busy with my accounts, adding up figures by the hour.

Perhaps you glance at me and think, "What a stupid game to spoil your morning with!"

Child, I have forgotten the art of being absorbed in sticks and mud-pies.

I seek out costly playthings, and gather lumps of gold and silver.

With whatever you find you create your glad games, I spend both my time and my strength over things I never can obtain.

In my frail canoe I struggle to cross the sea of desire, and forget that I too am playing a game.

 

This poem is in the public domain.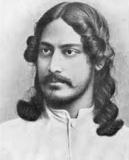 Rabindranath Tagore (1861-1941) was an Indian writer, musician, and artist. Born to a wealthy family in Calcutta, he wrote in many genres, but claimed poetry as his true love. Awarded the Nobel Prize for Literature in 1913, the first Asian to receive that honor, Rabindranath is beloved in India as the composer of its national anthem. A respected teacher, philosopher, and social reformer, his success as a writer allowed him to travel the world speaking and sharing Indian culture.
Allyson:
Very timely poem for my life right now. It was refreshing to read this.
Posted 01/18/2013 05:25 PM
RICHARD:
Posted 01/17/2013 01:29 PM
marenomitchell:
Thanks for this reminder that takes us across time and across the world!
Posted 01/17/2013 11:37 AM
KevinArnold:
The poem is made especially interesting by its self-reproach.
Posted 01/17/2013 09:35 AM
Larry Schug:
I agree. One of my big concerns is that children will lose the connection with nature and equating being outdoors with a pleasurable experience. The rest of the poem--greed, stupid priorities, etc. is so right on and with so few few, well-chosen words. Viva Poetry!
Posted 01/17/2013 09:03 AM
CamilleBalla:
Thank you for introducing me to this poet. I had been thinking we are the first to experience this fast pace of life, especially now with faster and faster speed of computerized electronics and our need to slow down, to get in balance. That's without even mentioning the greed for more and more instead of seeing and enjoying the beauty of simple things right in front of us.
Posted 01/17/2013 08:43 AM
Wilda Morris:
So true. And unfortunately, do to all sorts of electronic media and fancy toys, many of our children have lost the ability to entertain themselves with simple things.
Posted 01/17/2013 08:05 AM