I'll tell you a plan for gaining wealth,
Better than banking, trade or leases,
Take a bank note and fold it up,
And then you will find your money in creases!
This wonderful plan, without danger or loss,
Keeps your cash in your hands, where nothing can trouble it;
And every time that you fold it across,
'Tis as plain as the light of the day that you double it!
This poem is in the public domain.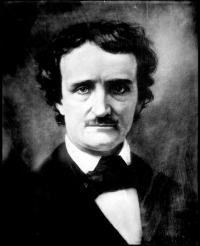 Edgar Allan Poe (1809 - 1849) was an American poet, journalist, and critic. Credited with inventing the detective story genre, he also played a significant a role in improving international copyright law and increasing wages for writers during the early 19th century. Though he published his first book at 18 and spent his entire professional life in one writing pursuit or another, Edgar didn't achieve widespread acclaim until "The Raven" was published in 1845. Even then, he continued to be plagued by the poverty and personal tragedy that makes his life read like one of his own tales. Edgar died at the age of 40, from causes still undetermined. Read more about his life here.
marietscholes@optusnet.c:
What fun! I always associated Poe with doom & gloom - how good to hear he had a sense of humour & enjoyed a laugh. And how true his message.
Posted 01/18/2013 02:06 PM
CamilleBalla:
Like this unexpected poem. Thank you!
Posted 01/18/2013 08:31 AM
Wilda Morris:
A good laugh to start my day. I did not know that Poe wrote that kind of poetry!
Posted 01/18/2013 07:57 AM