that I do not love you less

When she dances across my memory,

in the net of her sweet love.

and I hope that you will understand,

but when I see her smiling out

or catch a remembered gesture

the woman that you are now

†

Used with the authorís permission.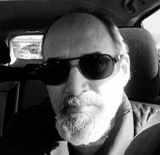 William Robertson started writing poetry when he was fifteen. He has appeared at many open mics, been the featured poet at several, and his work has been published in several magazines and newspapers. His book, Ordinary Things, was published in 2011. William lives in Sandwich, Illinois with Faith, his wife of 46 years, and a very demanding long-haired dachshund.
†
Dorcas:
What an emotional twister.
Posted 02/06/2013 01:55 PM
barbara eknoian:
SWEET!
Posted 02/06/2013 12:52 PM
rtaylor947@aol.com:
Wonderful poem. I like how the title feints in one direction and takes off in another.
Posted 02/06/2013 08:52 AM
dotief@comcast.net:
Very nice!
Posted 02/06/2013 08:06 AM
CamilleBalla:
Oh, I like this!! This is written so well of love over the years - that gift of memory when she (or he) was young. Thank you.
Posted 02/06/2013 07:51 AM
erinsnana:
a very sweet poem!
Posted 02/06/2013 06:58 AM