with only the sound of birds
the peaceable streaked sky
        that parts the rushing waters
        and you rest your hand on mine.
© by Liz Rhodebeck.
Used with the author's permission.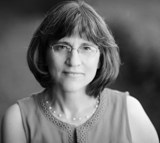 Liz Rhodebeck is a freelance journalist and poet from Pewaukee, Wisconsin, who enjoys interviewing interesting people in her area. She is the author of the chapbook, What I Learned in Kansas, published in 2010, as well as Benthos and The Book of Ruth. A lover of the arts, Liz is a member of the Pewaukee Area Arts Council, and has been co-editor of the community ekphrastic project, One Vision: A Fusion of Art and Poetry in Lake Country. She is a founding member of the faith-based group Grace River Poets and is especially fond of bagpipe music. Visit Liz's website at www.waterwriter.com.
Dorcas:
Lovely. If only espousal would always be so.
Posted 02/08/2013 05:33 AM
KatyMarie:
A very beautiful piece. A mixture of calm, summer and love. Wonderful imagery! Thank you so much for sharing.
Posted 02/07/2013 04:16 PM
transitions:
Beautifully done ~ Judy
Posted 02/07/2013 04:05 PM
Jo:
What a lovely poem, Liz.
Posted 02/07/2013 10:49 AM
ed werstein:
excellent work, Liz
Posted 02/07/2013 10:39 AM
TrickSkierAbby:
Beautifully written, Liz! Congrats! ~Abby
Posted 02/07/2013 09:05 AM
Anjie:
What a sweet love poem! Way to go, Liz!
Posted 02/07/2013 08:13 AM
janjoy1@charter.net:
Just lovely! Thank you for sharing your talents.
Posted 02/07/2013 07:05 AM
paula:
That settled ,loving comfort! Good to hear your voice.
Posted 02/07/2013 06:49 AM