Your good coat is black wool
We are dressed up that Saturday
We ride the bus to the City,
to the Automat for lunch.
as nickles drop into the slots,
four nickles for red Jello,
seven nickles for lemon meringue pie.
Here you could never go hungry.
After lunch we stand in line,
buy tickets for the matinee
at Radio City Music Hall,
kick in time to the music.
They dance before Cinderella,
we ride the bus back home.
It smells like diesel fuel.
You turn off the seat light.
© by Tere Sievers.
Used with the author's permission.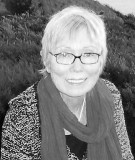 Tere Sievers, originally a Jersey girl, lives in Long Beach, California, and works as a psychotherapist. Eating tomatoes from her garden is one of her great delights, as well as visiting her vagabond sister in various tropical climes. For the enjoyment of the children in her life, she has published a book of children's poems, Blueberry Pancakes and Monkey Pajamas; three other poems will be included in the Green Anthology, forthcoming in March from Silver Birch Press.
sharon:
What a lovely stroll - i could almost hear the Rocketts stomping on the stage. Yes, even the diesel fumes. The vagabond sister.
Posted 02/28/2013 03:03 PM
barbara eknoian:
I'm with you on the bus to New York City, and back. Great poem!
Posted 02/24/2013 12:18 PM
lisa honecker:
I only went once to the Automat, but what an experience. This poem brings back such a happy experience with my Aunt Helen. Lisa Honecker
Posted 02/23/2013 02:04 PM
KevinArnold:
Very nice, the specificity of "four nickles for red Jello, seven nickles for lemon meringue pie." brings the reader right into the automat. I take it as a reminder to do more for the children in my life . . .
Posted 02/23/2013 01:07 PM
Joe Sottile:
A journey into youth and limitless dreams...Bravo!
Posted 02/23/2013 12:50 PM
dotief@comcast.net:
Lovely!
Posted 02/23/2013 10:41 AM
lafayette:
Thank you for your poem in YDP. It made me think of rides with Daddy. Maybe I will write a poem about that even though I cannot match yours.
Posted 02/23/2013 10:15 AM
loisflmom:
Thanks, Tere. If I were a poet, this might have been one of MY poems, so close it is to one of my memories (minus the diesel fumes!)
Posted 02/23/2013 09:32 AM
erinsnana:
I love, love, love this poem!! Such memories!!
Posted 02/23/2013 06:53 AM