After the snow
birds swim the sky
wings outstretched, exuberant
warmed by a light drizzle
falling on pear-coloured fields
they drink in a saturated land
Gliding from cedar to spruce
great canopies of army green,
gulls alight from a satin sky
to branches covered in lichen
where pistachio ivy clings
Sweeping over a shrouded sea,
liquorice crows blotch the horizon.
Blackbirds gather
on the arching limbs
of my silver birch tree,
rejoicing
in a melting morning
 © by Máire Morrissey-Cummins.
Used with the author's permission.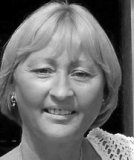 Máire was born in Tramore, Ireland, but presently lives in Greystones, County Wicklow, after living abroad for many years, mainly in Holland and Germany. After a lifetime working, Máire is early retired, new to poetry, and enjoying this creative period of her life. A member of the Irish Haiku Society and Haiku Ireland, Máire has been published in Irish anthologies, journals, and magazines as well as online and abroad. Learn more about her here.
KevinArnold:
Exquisite.
Posted 03/04/2013 02:05 PM
mimi:
aaahhh...lovely...
Posted 03/04/2013 09:06 AM
Charly:
Lovely and fresh images.
Posted 03/04/2013 07:09 AM
Larry Schug:
Beautiful, especially when read aloud. Birds and Spring, please arrive in Minnesota soon!
Posted 03/04/2013 06:40 AM